05 Mar 2020
14% rise in Delta Air Lines' sentiments driven by the Boeing 737 Max grounding, says GlobalData
Posted in
Coronavirus
The Boeing 737 MAX's grounding put Delta in the pole position to overcome the competition, in terms of sentiments, as Delta Air Lines saw an increase of 14% in Q4 2019, compared to Q3. This allowed the company to gain ground over its competitors, American Airlines and Southwest Airlines, which saw declines in sentiments by 3% and 9.68%, respectively, says GlobalData, a leading data and analytics company.
Aurojyoti Bose, Lead Analyst at GlobalData, says: "Delta is the only major airline operator in the US without the Boeing 737 MAX, which have been grounded since March 2019. As a result, the company avoided the negative consequences of the grounding while rivals such as American Airlines and Southwest Airlines were negatively impacted. Delta has also been a beneficiary from its rivals' 737 MAX flight cancellations."
Sentiments for the quarter were also driven by holiday-season passenger gains, which came ahead of Delta's expectations. In Q4 2019, the number of passengers flown was 6.4% higher than Q4 2018 – and Q4 2018 was 3.3% higher vs Q4 2017.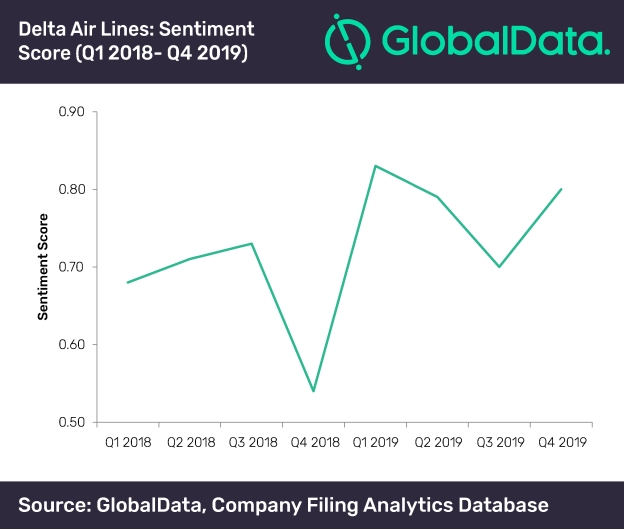 IMAGE FOR PUBLICATION: Please click here for enlarged chart
Bose continues: "Interestingly, around 60% of Delta's operating fleet are Boeing aircraft. However, Delta is currently not adding any new Boeing aircraft to its fleet – all the orders are from Airbus.
"Without incorporating the effects of the MAX grounding, Delta expects a strong Q1 2020 growth as suggested on the Q4 2019 earnings call. Notwithstanding possible future gains due to the grounding, the coronavirus outbreak will impact the company's growth. It will be interesting to see the strategies undertaken by Delta to limit the impact."