Just over half of UK consumers are willing to visit non-essential stores once lockdown restrictions are lifted, with 16-24 year olds the most enthusiastic with 66.8% feeling comfortable returning to shops*, says GlobalData, a leading data and analytics company.
Sofie Willmott, Lead Retail Analyst at GlobalData, comments: "With the fatal risk of COVID-19 much lower for the majority of younger consumers, they are more willing to return to public places. Consequently, those retailers targeting 16-24s such as JD Sports and H&M, will see footfall return more quickly than retailers, such as M&S and Debenhams, that are trying to encourage older customer bases back to stores."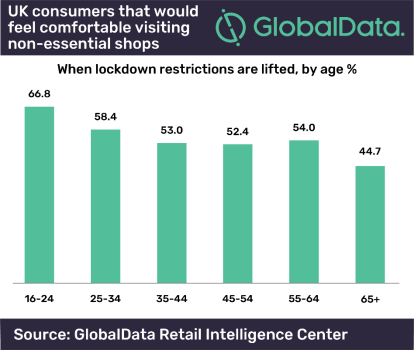 Although many retailers, including John Lewis & Partners and Reiss, are planning to phase the re-opening of their stores from 15th June to test new safety measures and gauge demand, Primark is opening all of its branches in England straight away, taking on its learnings from its European locations.

Willmott, continues: "Primark's stores will attract young consumers who have not been able to get their value clothing fix from the retailer online however many of its city centre branches are likely to be quiet as shoppers will be reluctant to travel to shopping locations. Its huge destination stores at each end of Oxford Street are set to be much more tranquil than usual with a lack of tourist traffic and footfall from workers based nearby."
* Data is taken from GlobalData's survey of 2,000 nationally representative UK consumers conducted in early May 2020.