An analysis of Premier League sponsorship deals shows that the two biggest spending sectors in terms of shirt sponsorship – airlines and automotive manufacturers with deals estimated to be worth $211.2m – are likely to come under severe pressure as the COVID-19 crisis grows, leading to significant commercial pressure for Premier League teams, according to GlobalData, a leading data and analytics company.
GlobalData's report, 'The Business of the English Premier League' states that while automotive brands and airlines account for only 25% of the Front of Shirt deals in the Premier League, these two sectors provide nearly 47% of Premier League revenue from Front of Shirt deals. In contrast, betting brands are the most dominant sector, accounting for 40% of all deals in the league, but only providing $66.9m in revenue. Should the COVID-19 crisis continue much longer, many airlines and auto manufacturers are going to have to adjust their marketing strategies moving forward.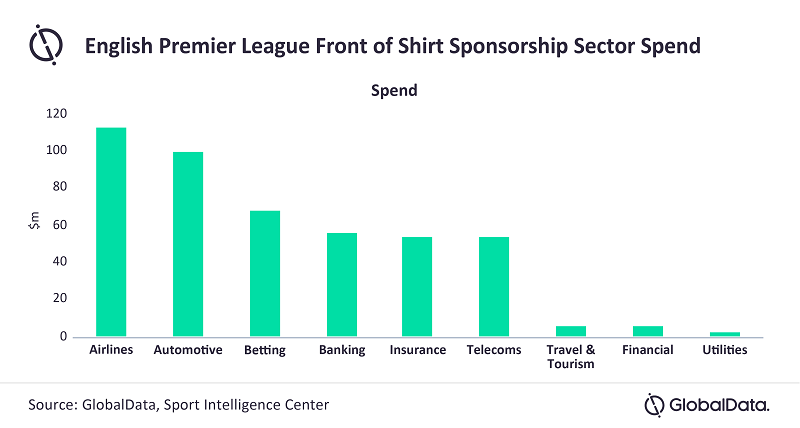 Conrad Wiacek, Head of Sport Analysis at GlobalData, comments: "While Premier League clubs have diversified their Front of Shirt partners in recent years – with nine different sectors contributing an estimated $451m in revenue through Front of Shirt deals alone – some of the Premier League's largest clubs will likely see some form of impact from COVID-19. For example, Manchester United agreed a short-term extension of its sponsorship deal with Chevrolet to allow the brand to make its financial commitments – a trend likely to accelerate in the months ahead.
"Contrasting Front of Shirt deals with Sleeve sponsors sees a much more diverse set of sponsors, including the likes of Expedia, Visit Rwanda and aerospace firm Aeroset. However, Sleeve sponsors only provide an estimated revenue of $76.2m per season, highlighting just how crucial Front of Shirt sponsors are to the commercial revenues of the world's most popular league. Should firms start to struggle and be forced to break commercial agreements, the financial model of the league may well be threatened."