29 Jan 2021
Across pharmaceutical value chain drug development process will experience biggest impact from COVID-19 in 2021
Posted in
Coronavirus
Despite seriously affecting the ability to carry out clinical research, COVID-19 is also proving to be a catalyst that may transform the drug development process, with technological innovations taking center stage in driving this change, says GlobalData, a leading data and analytics company.
GlobalData's latest report, 'The State of the Biopharmaceutical Industry 2021', reveals that the drug development process will face the biggest impact from COVID-19 in 2021, as confirmed by 32% (N=63) out of 198 pharmaceutical industry professionals.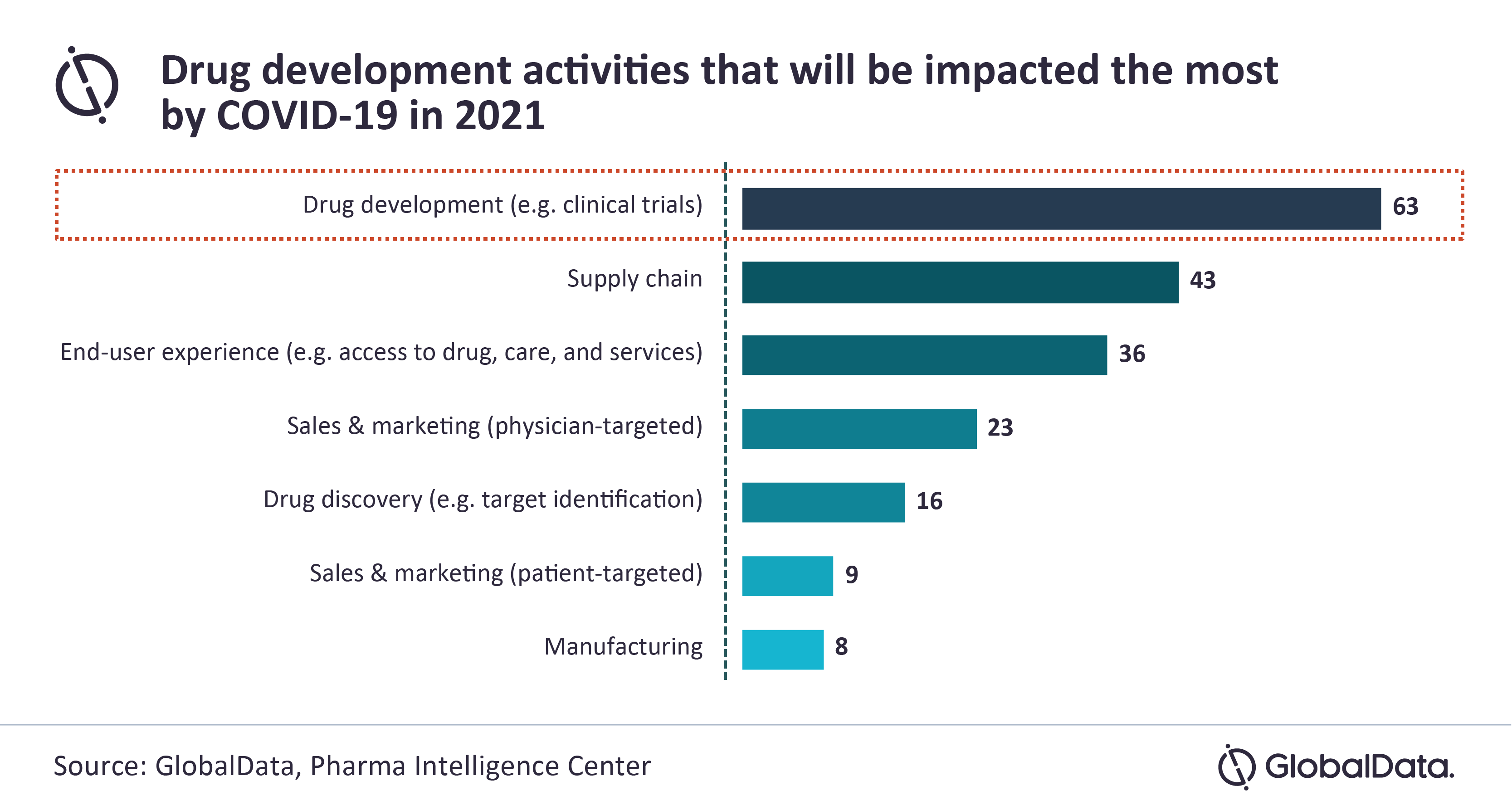 Urte Jakimaviciute MSc, Senior Director of Market Research, comments: "While COVID-19 has presented and will continue to present some daunting challenges, ranging from supply chain disruption to delays and suspension of clinical trials, the pandemic will also help the industry to streamline its core processes across the entire value chain."
Clinical trials – one of the most critical and expensive stages in drug development process – are often challenged by inefficient data sharing, difficult patient recruitment, retention and ever increasing administrative costs. The rising costs of clinical trials, coupled with commercial risks of failure, are one of the main drivers for adoption of innovations in the pharmaceutical field. COVID-19-prompted regulatory relaxations together, with accelerated expansion of new technologies, will change in the current paradigm of traditional drug discovery and development, ushering in a new era for decentralized/virtual clinical trials.
Based on clinical trials completed thus far, COVID-19 trials have had a relatively quick turnaround time due to dire need, availability of COVID-19–infected subjects, and funding from multiple sources to conduct clinical trials.
Jakimaviciute continues: "The pandemic has created a massive global effort centered around finding effective therapeutics and vaccines. While development and commercialization of a safe vaccine typically takes at least several years to materialize, Pfizer/BioNTech has beaten that timeline by a considerable margin, with the UK becoming the first market to approve the shot.
"Nevertheless, with pharmaceutical companies shifting their efforts on the development of COVID-19-related assets, the other drug development programs have been brought to a temporary standstill. While the world remains heavily focused on the development of COVID-19 therapeutics and vaccines, the pandemic successfully showcased that new paths can be explored in drug development process, which hopefully will set the scene for transformation across other disease areas as well."
* A total of 198 GlobalData Pharma clients and prospects participated in the 10-minute survey, which was fielded from November 17, 2020 to December 11, 2020.