15 Dec 2020
Adidas looks to gain market leadership during COVID-19 while Nike takes a conservative approach
Posted in
Sport
Sports and fitness brands such as Adidas and Nike initially responded to COVID-19 by reducing hiring across geographies. These firms acted quickly to the situation, reducing hiring activity by 40% and 47%, respectively, in March. However, leading data and analytics company GlobalData notes that Adidas saw opportunity in ecommerce and started hiring again from May.
Ajay Thalluri, Business Fundamentals Analyst at GlobalData, says: "While Adidas's jobs grew 160% in May, Nike's postings reduced by 10%. It was only in September that Nike's job postings started to increase – albeit a small spike in June. Adidas is strengthening its direct-to-consumer capacities, having repositioned 700 jobs from various parts of the organization into e-commerce. This activity indicates that it is racing to drive sales through app-based digital shopping."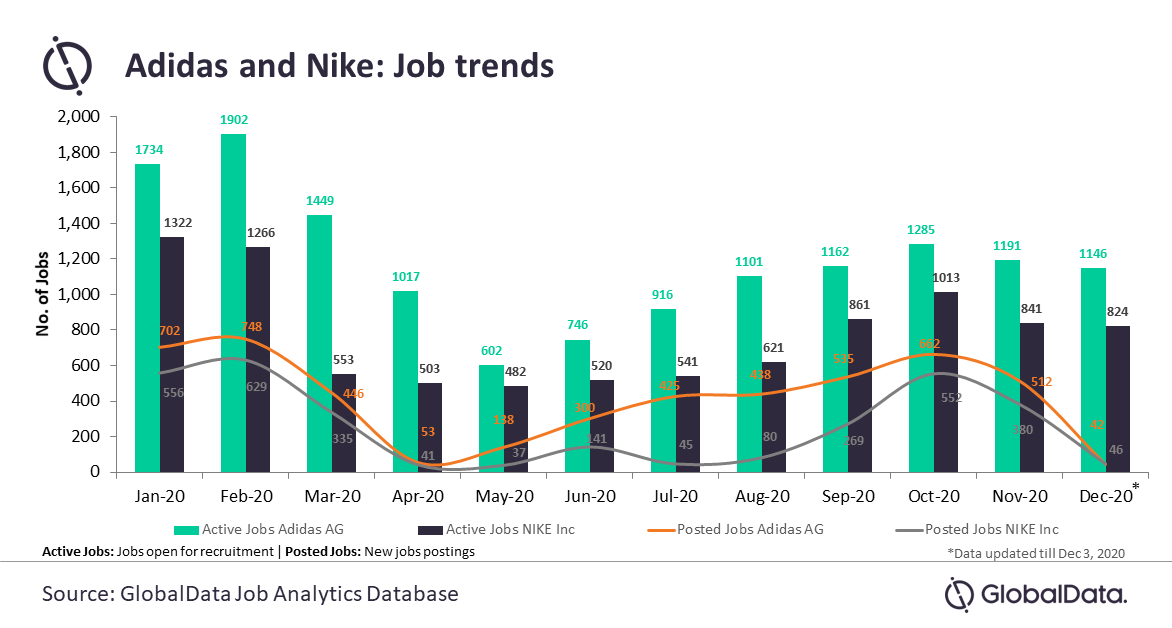 While the majority of jobs posted by the two companies were for their retail stores, there is a noticeable trend in job postings for the digital segment. A total 38% of Adidas' posted jobs in Q2 contained keywords 'digital' and 'ecommerce' in the job description while these only appeared in 8% of Nike's posted positions.
Thalluri adds: "Some of Nike's key senior-level job postings include Field Innovation Manufacturing Engineering Director; Senior Director Nike Direct Digital Commerce; Converse Digital Technology Director – Direct to Consumer; Digital Transportation Director; and Director of Operations – East Coast Fulfilment Center. These suggest the company is investing to build digital capabilities and make progress with robotics and automation for logistics operations."
Adidas, on the other hand, is collaborating with music artists such as Kanye West and Beyonce to launch exclusive products. The company continues to post jobs for its exclusive line of 'Yeezy' sneakers available through its recently launched CONFIRMED mobile app.
Thalluri continues: "Of the overall jobs at Adidas between January to November, 5% were for app developers, design creators and product management experts. At Nike, similar postings stood at 2%."
Adidas posted significant senior-level jobs to strengthen ecommerce segment. These included Director Digital Operations; Director Digital Growth APAC; Senior Director Digital Commerce – EM; Vice President, eCommerce Japan; Director GBS Direct to Consumer – eCommerce; Director, Platform Strategy eCommerce APAC; and Director Product Ownership – Consumer Acquisition.
Ajay concludes: "As a part of a consumer direct acceleration (CDA) strategy, Nike announced layoffs of 500 positions at the headquarters in October 2020 and a total of 700 positions by January 2021. The company further kept job positions low amid an executive reshuffle in Q1 and yet again in early Q3."