09 Nov 2020
ADS cybersecurity hiring jumps to safeguard assets and reduce vulnerability, finds GlobalData
Posted in
Aerospace, Defense & Security
Cybersecurity hiring has more than doubled during the last three quarters of 2020 in the Aerospace, Defense, and Security (ADS) market, building to a high of 4,800 active jobs in October 2020 – compared to 1,800 as of January 2020, according to the Jobs Analytics database by leading data and analytics company, GlobalData. While the overall hiring was relatively flat during Q1 2020, themes such as cybersecurity, artificial intelligence, and 3D printing stood out in terms of job postings.
Ajay Thalluri, Business Fundamentals Analyst at GlobalData, says: "Companies are exploring and looking to plug vulnerabilities while building deterrence. During the last few months, companies such as Raytheon, Thales, Leidos, General Dynamics and Lockheed Martin have posted senior-level cybersecurity positions. These include Director – Cyber Strategy and Risk; Associate Director – Cybersecurity Architecture; Director – Incident Management; Chief Information Security Officer; Chief Cyber Security Engineer/Architect; Director Data Governance."
David Bicknell, Principal Analyst in the Thematic Research at GlobalData, adds: "The security industry remains in critical need of qualified people, with the types of jobs currently always in demand including forensics, consulting in advanced threat solutions and cybersecurity analysis, according to GlobalData's Jobs Analytics database. The dearth of cyber talent inevitably means that skilled professionals will continue to gravitate to the biggest companies paying the highest salaries, putting under-resourced, smaller companies at greater risk of cyberattack.
"The recent ransomware attack on Software AG – one of the premier software companies in Europe – showed that no company is immune from cyberattack. Cybersecurity is a critical theme for organizations of all sizes. With the pandemic leading to many employees working remotely, that has added to potential business risk for companies already trying to keep themselves cyber secure, against attacks that are increasing in sophistication."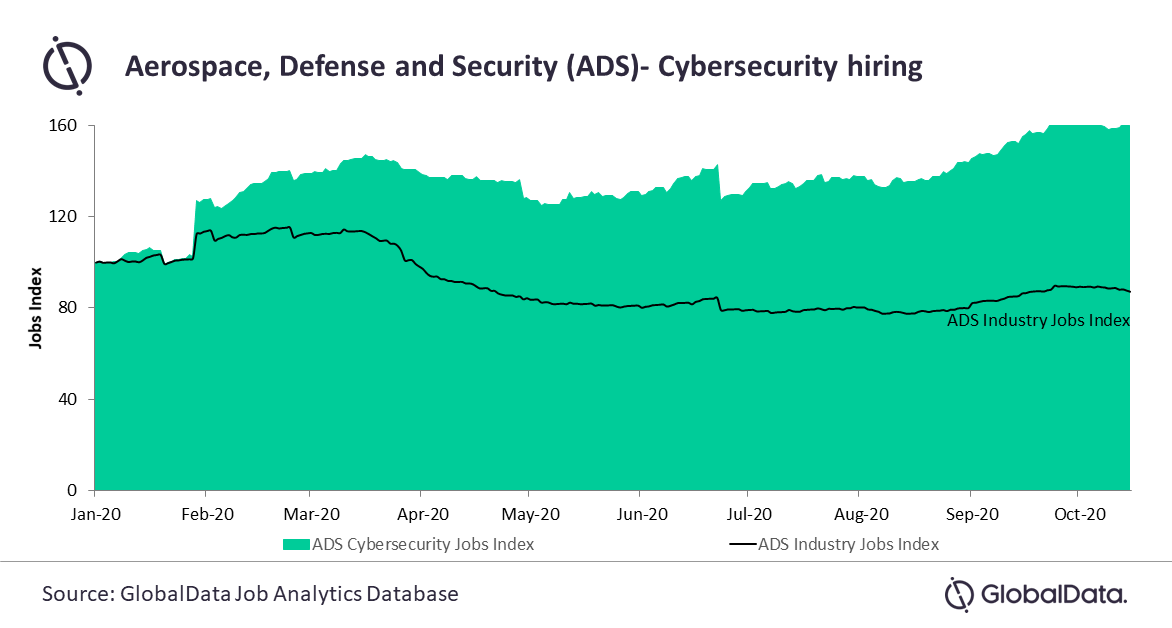 Some of the key areas for job postings include information security and IT risk management programs; identification of patterns and reference architectures; addressing cybersecurity needs; persistence surveillance; response to unplanned events; mitigation of cyber threats; regulatory compliance; modernizing IT infrastructure; developing specific products based on avionics, defense, space project requirements; and identifying business opportunities across markets.
Stelios Kanavakis, Defense Analyst at GlobalData, says: "Defense is in need of developing its inherent capabilities by training and most importantly retaining its cybersecurity specialists against the competition from the private sector. Cybersecurity in defense now extends to the tactical level or at the edge of a highly digitized battlefield, with forces setting up mission-specific units that assume offensive operations to tackle threats at their source."
The companies closely work with federal agencies through cybersecurity contracts. Top defense contractors such as Thales, Lockheed, Leidos, and Raytheon bagged multi-million contracts to provide cybersecurity support and network defense, conduct tests, and secure domains.
Kanavakis continues: "Cybersecurity's importance in defense will continue to increase as complementary capabilities, such as cloud computing, will continue to revolutionize the battlefield and provide force multipliers. Trends like the development of sensors with computing power that process information onboard and share them in real time, make cybersecurity a crucial element in establishing information and decision-making superiority."