02 May 2020
Amid declining Q1 M&A volumes in Europe, UK scores highest number of deals with 610, says GlobalData
Posted in
Banking
The European region witnessed consistent decline in mergers and acquisition (M&A) deal volume during Q1 2020, decreasing from 710 in January, to 699 in February, and to 599 in March 2020. Deal value also started declining near the end of the quarter, registering growth from US$25.4bn in January to US$49.1bn in February before declining to US$27.5bn in March, according to GlobalData, a leading data and analytics company.
Aurojyoti Bose, Lead Analyst at GlobalData comments: "The decline in M&A volume and value could be attributed to uncertainty surrounding the COVID-19 outbreak. In volume terms, the top five countries (the UK, Germany, France, Sweden and Italy) accounted for around 62% of total deal volume, whereas the top five countries (France, the Netherlands, the UK, Germany and Italy) by value accounted for around 73% of total deal value."
All top five countries by value except the Netherlands showcased decline in deal value in March 2020 compared to February 2020.
Bose adds: "Although, in terms of value, the Netherlands witnessed growth in March 2020, this was only due to the announcement of one high-value deal, excluding which deal value also declined in this country."
The acquisition announcement of Qiagen by Thermo Fisher Scientific for US$11.5bn in March 2020 raised the total value for the Netherlands during the month.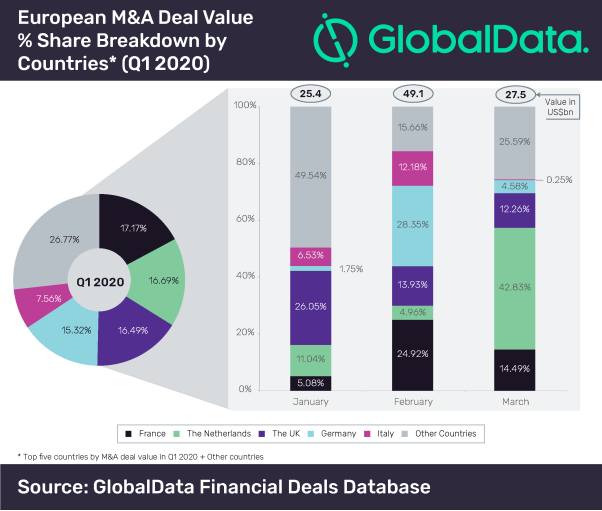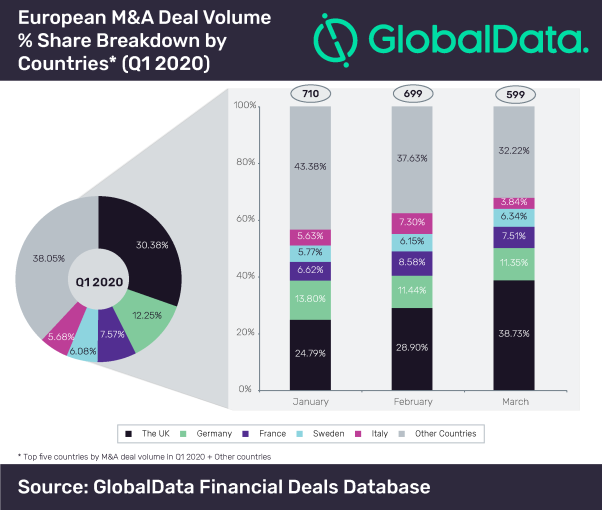 In terms of deal volume, the UK occupied the top spot with announcement of 610 M&A deals during Q1 2020, while France occupied the top spot in value terms with total deal value worth US$17.5bn. This was closely followed by The Netherlands with total deal value worth US$17bn.
In volume terms, all top five countries except the UK witnessed decline in the number of deals announced during March 2020 compared to February 2020.
Bose concludes: "With several countries in the region still reeling under the impact of the outbreak, the subdued activity is likely to continue for some more time."