23 Sep 2020
Amyotrophic lateral sclerosis set to increase to 65,900 cases in the 8MM in 2029 due to aging populations, says GlobalData
Posted in
Pharma
The diagnosed prevalent cases of amyotrophic lateral sclerosis (ALS) in the eight major markets (*8MM) is expected to increase from 57,800 cases in 2019 to 65,900 cases in 2029, at an annual growth rate (AGR) of 1.41%, according to GlobalData, a leading data and analytics company.
The company's latest report, 'Amyotrophic Lateral Sclerosis: Epidemiology Forecast to 2029,' reveals that in the 8MM, for people aged 40 years and over (≥40), the US is expected to have the highest number of diagnosed prevalent cases with 21,100, followed by Japan with 11,400 cases. There were 21,900 cases in the *5EU in 2019.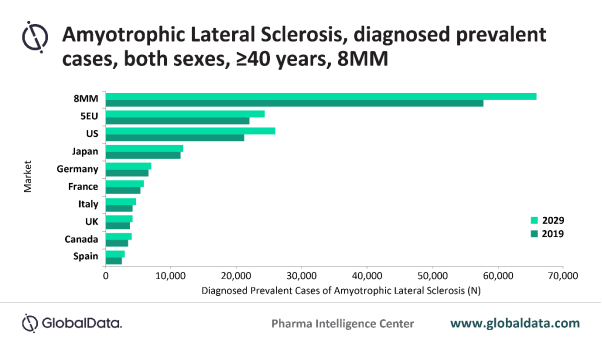 Bharti Prabhakar, Senior Epidemiologist at GlobalData, says: "The major drivers for the upward trend in the diagnosed prevalent cases of ALS in the 8MM over the next decade can be attributed to increased societal awareness of ALS, as well as an increase in the number of individuals in the 60-79 age group most at risk of developing ALS during the forecast period."
The risk of ALS increases with increasing age, and the diagnosed prevalence of ALS in the elderly is consistently higher than those in the younger adult populations. With the increasing aging population worldwide, the number of prevalent cases of ALS is expected to rise in the near future, which will burden already strained healthcare systems.
Bharti concludes: "The highly debilitating nature of ALS, coupled with its poor prognosis poses substantial socioeconomic consequences for patients. ALS patients are not just burdened with medical costs, but also suffer from significant productivity losses. As there is no cure for ALS, treatment of the disease mainly focuses on supportive care, which is typically provided by caregivers such as a spouse, siblings, or others who live with the patient. Therefore, the consequences of ALS for caregivers are also substantial. Given the peculiarities of ALS, such as its unpreventable nature and its varying natural history with age and sex, it is imperative for researchers to gain a better understanding of the aetiology of ALS, which will provide insight into disease prevention."
*8MM = The US, 5EU (France, Germany, Italy, Spain, UK) Japan, Canada