27 Mar 2020
An estimated 330m people, 15% of the 9MM population, face risk of severe COVID-19, says GlobalData
Posted in
Coronavirus
Following the recent news that the coronavirus (COVID-19) has now spread across 176 countries with approximately 530,000 total confirmed cases worldwide as of 27.03.20;
Katie Wrenn, Associate Epidemiologists at GlobalData, a leading data and analytics company, offers her view on the current challenges facing the 9MM:
"We now know that severe and critical forms of COVID-19 are more common in the elderly and those with chronic underlying health conditions.
"GlobalData epidemiologists have analyzed the proportion of men and women of all ages across the nine major markets (*9MM) who have ** underlying health conditions including cardiovascular disease, respiratory disease, cancer, diabetes and some selected rare diseases and have estimated that 330m people, some 15% of the 9MM population, fall into this category.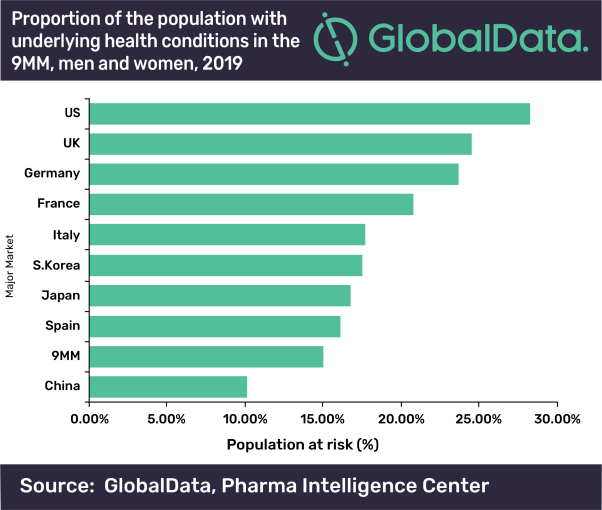 "Being able to quantify the proportion of a population with chronic underlying disease helps nations to prevent the spread of this disease, protect these at-risk groups and depressurize health systems by planning for the likely number of people who may require hospitalization if they contract COVID-19.
"Italy failed to protect its at-risk population quickly enough, with the number of critically ill patients now exceeding the number of intensive care unit (ICU) beds with the country now reporting more than ***8,000 deaths from COVID-19.
''Other countries must use the proportion of people at risk of developing severe COVID-19 to prepare their healthcare systems to cope with what lies ahead.''
* 9MM = US, France, Germany, Italy, Spain, UK, Japan, China, and South Korea
** underlying health conditions referred to here, include: Respiratory disease: asthma, chronic obstructive pulmonary disorder, idiopathic pulmonary fibrosis, cystic fibrosis. Cardiovascular disease: heart failure and myocardial infarction. Diabetes: diabetes mellitus type 1 and type 2. Selected rare diseases: Duchenne muscular dystrophy and Ehlers-Danlos syndrome (classic, vascular and hypermobility types).

*** Italy total confirmed deaths of 8,000 as of 27.03.20