07 Feb 2020
ASEAN destinations will benefit from growing connectivity with Europe
Posted in
Press Release
Thailand, Indonesia, Singapore and Malaysia have all experienced expansive growth within inbound European travelers. Vietnam however stands out as the one country in the region that is currently experiencing an influx of European travelers.
Last year brought 2.2 million European travelers to Vietnam, largely from source markets such as Russia, France, Germany and the UK, which have all experienced considerable growth over the past three years.
European travelers alone spent over US$700bn on the global tourism economy (outbound tourism expenditure) in 2019 and thus are a desirable market for any destination to engage.
GlobalData's latest report, 'Tourism Destination Market Insights: Association of South East Asian Nations – ASEAN', found that Russia, France, Germany and the UK are some of the fastest growing source markets for the Association of South East Asian Nations (ASEAN) region. Germany in particular holds the highest projected compound annual growth rate at 8.02% for a European inbound market for 2020-2023.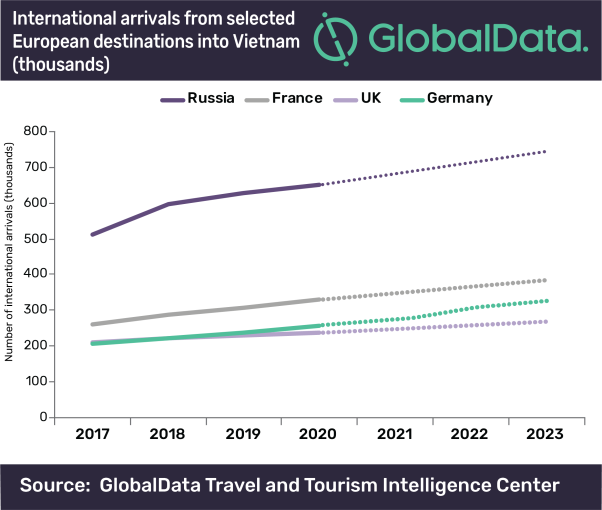 Image for publication: Please click here for enlarged image
According to the CBI Ministry of Foreign Affairs, Europeans are known for holding interest in developing tourism destinations that remain authentic to origin. Promising market segments include culture, gastronomy, nature-based, adventure and backpacking adventures, all of which the ASEAN region boasts in abundance.
Johanna Bonhill-Smith, Travel and Tourism Analyst at GlobalData, says: "Vietnam has grown in popularity over the past few years thanks in part to increased international promotion. At the World Travel Awards (WTA) 2019, the country was named 'Asia's best golf destination' alongside the 'World's Leading Heritage destination', helping Vietnam gain added traction.
"By 2023, all selected markets, as previously mentioned are forecast substantial growth into Vietnam. The long awaited comprehensive air transport agreement (CATA) between the EU (European Union) and ASEAN region is further likely to provide a substantial boost to air traffic between connecting destinations."
National tourism organizations (NTO's) and destination management organizations (DMO's) have opportunity to further take advantage of this growth. Developing destinations such as Cambodia, Laos and Myanmar should look to develop bilateral relations as they are an extremely beneficial way to form joint promotions, thus increasing traction of both destinations.
Bonhill-Smith concludes: "Ultimately, with aspirations to more equally distribute the benefits of tourism throughout the ASEAN region, engaging source markets across Europe could prove extremely beneficial for the whole tourism economy."