01 May 2020
Australian consumers are feeling more optimistic as lockdown restrictions start to be lifted
Posted in
Consumer
Australia's stringent lockdown has paid off with the country only seeing around 25 new cases of COVID-19 per day at the end of April. As a result, consumers are feeling more positive and although measures differ across states, the gradual opening of some non-essential stores signals the start of a new normality for retailers, says GlobalData, a leading data and analytics company.
Thomas Brereton, Analyst at GlobalData, comments: "Our latest weekly COVID-19 global retail tracker shows that Australia's future and present outlook indices climbed by double digits week-on-week, for the seven days ending 26 April. In response, retailers including luxury brands and sportswear stores have started to re-open, and we expect to see a positive impact on retail spend as shoppers slowly start to return."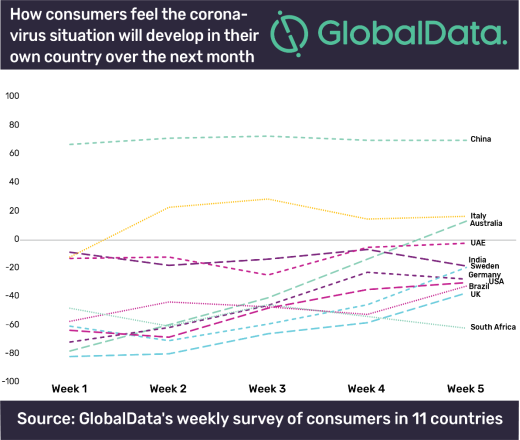 Note: As part of GlobalData's weekly survey of 11 countries (500 respondents per country), consumers are asked how they expect the situation regarding COVID-19 to change in their country over the course of the next month; the index is calculated as the percentage of consumers that felt it will improve less the percentage of consumers that felt it would get worse. The index range is +100 to -100. Week 1 started from 25th March and week 5 ended on 26th April.
Retailers worldwide will be paying close attention to consumer behaviour in countries that have started to lift lockdown measures to learn lessons in order to successfully re-open stores when the time comes and try to recuperate some of the sales they have missed out on.

Brereton continues: "The relaxation of retail restrictions in Australia should be closely watched by global operators, especially the success of the upcoming expansion of click & collect services (e.g. by department store Myer). If customer demand matches expectation, European department stores should emulate such tactics when reopening later down the line."