09 Jun 2020
Belgian's retail savings and investments to contract as economy comes to a standstill
Posted in
Banking
Low consumer confidence in Belgium will see retail deposits account for a higher proportion of total savings and investments, as recession looms, says GlobalData, a leading data and analytics company.
GlobalData expects the overall market value to remain flat with 0.8% growth forecast in 2020, compared to the 1.9% pre-COVID-19 growth forecast, which is a relatively small blip and swing, compared to other countries.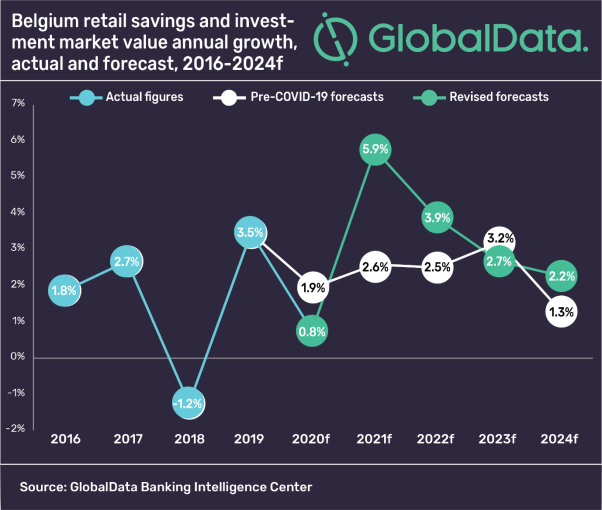 GlobalData senior wealth management analyst, Heike, van den Hoevel, commented: "We expect the recession in Belgium to be V-shaped, given that economic fundamentals have been less shaken than the 2007-08 crisis. In fact, the IMF expects the country's GDP growth to bounce back to 4.6% in 2021. In line with this, we expect growth to bounce back to 5.9% in 2021 – 2.4 percentage points higher than 2019.
Van den Hoevel added: "Low consumer confidence will see retail deposits follow the same pattern as during the 2007-08 financial crisis, when holdings rose from 46.6% of the retail mix in 2007 to 52.1% in 2008. National Bank of Belgium data shows that consumer confidence dropped by 17 points to -26 in April, compared to the previous month. This considered, we forecast retail deposit holdings to increase by 7.3%, ahead of our previous forecast of 2.7% for 2020."
Information based on GlobalData's report: Covid-19 Sector Impact: Retail Savings & Investments – Belgium