10 Mar 2020
Black US men have higher risk of breast cancer than white men, says GlobalData
Posted in
Pharma
The numbers of breast cancer cases in men are growing steadily in the US. Epidemiologists at leading data and analytics company GlobalData forecast an increase in the diagnosed incident cases of breast cancer in men in the US to reach 2,550 cases in 2028, at an annual growth rate (AGR) of 1.10%. Although the cancer is rare in men, the burden is disproportionally higher in black men.

GlobalData's latest report, 'HER2-Negative Breast Cancer: Epidemiology Forecast to 2028', reveals that the increase is partly attributed to the moderately rising trend in incidence combined with underlying demographic changes in the US.
Research published in the JNCI Cancer Spectrum in December 2019 analysed breast cancer cases from 2010 and 2016 in the US and found that cancer was 52% higher in black men than white men, whereas among women rates were 2% higher in whites than in blacks.
Bishal Bhandari, Senior Epidemiologist at GlobalData, commented: "The reason for this difference is largely unknown, and there may be a number of genetic and non-genetic risk factors, such as gene mutations, biomarkers and radiation exposure. It needs to be investigated further."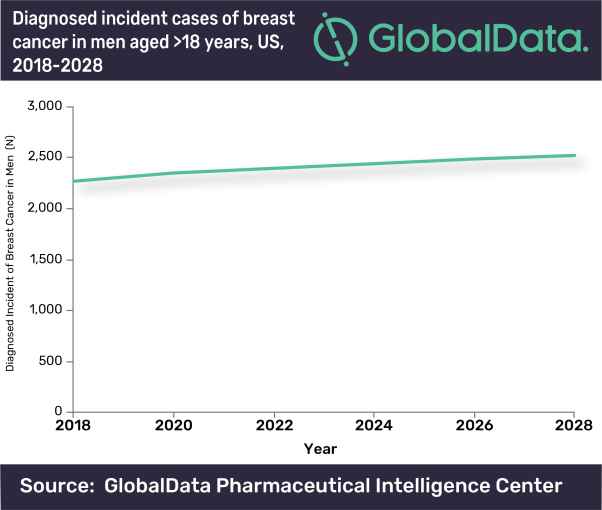 IMAGE FOR PUBLICATION: Diagnosed incident cases of breast cancer in men ages >18 years, US, 2018-2028
Breast cancer has been poorly researched in men. There is also a distinct lack of awareness and social stigma in seeking early diagnosis and treatment of breast cancer, which is predominantly associated with women.
Bhandari continued: ''Breast cancer in men is usually diagnosed late, with poor survival outcomes. Effective public health strategy is needed to overcome apathy and social stigma regarding male breast cancer. Researchers should also explore the causes of racial differences in breast cancer.''