28 Apr 2020
BMO Capital Markets is leading global M&A financial adviser in metals and mining sector in Q1 2020
Posted in
Business Fundamentals
BMO Capital Markets held the top rank in the latest global mergers and acquisitions (M&A) league table of the top ten financial advisers for the metals and mining sector by value and volume in the first quarter (Q1) of 2020, according to GlobalData, a leading data analytics company.
The Canadian investment bank took the top spot with a deal value of US$1.53bn for advising on five deals. GlobalData, which tracks all M&A, private equity/venture capital and asset transaction activity around the world, confirmed that Maxit Capital finished at second position in terms of value with three deals worth US$699.8m.
Gleacher Shacklock and National Bank Financial both stood at third position in terms of value with one deal worth US$696.3m. In terms of volume, Canaccord Genuity took the second spot with four deals worth US$97.8m, followed by Maxit Capital.
BMO Capital Markets, which topped the metals and mining deals league table, did not appear in the recently released global league table of top 20 M&A financial advisers by GlobalData.
Aurojyoti Bose, Financial Deals Analyst at GlobalData, says: "The metals and mining sector witnessed drastic decline in deal value in Q1 2020 compared to Q1 2019. Under this environment, BMO Capital Markets was the only player to cross the US$1bn mark. On the other hand, the total value of deals advised by three of the top ten firms by volume was even less than US$100m."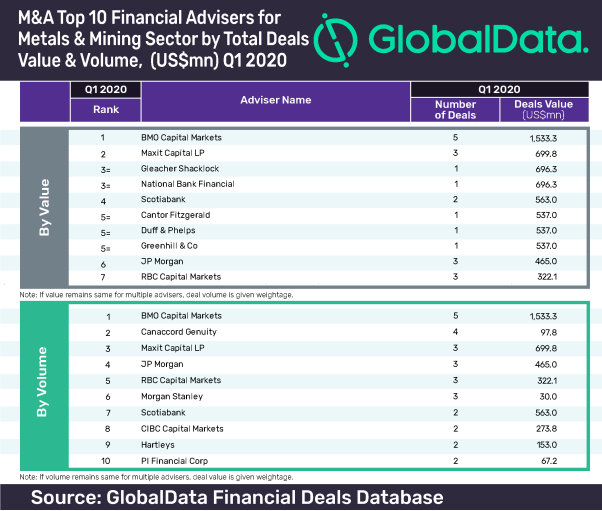 Global metals and mining deals market deals market in Q1 2020
The metals and mining sector saw a decline in deal value in Q1 2020 when compared with Q1 2019. The overall deal value fell by 72.77% from US$21.9bn in Q1 2019 to US$6.0bn in Q1 2020. Deal volume also decreased by 10.98% from 346 to 308.