01 Dec 2020
Cargo businesses could be the lifeline airline operators need with mentions of 'cargo' in earnings transcripts rising 18% in 2020, says GlobalData
Posted in
Travel & Tourism
The online shopping boom during the holiday season and the need for vaccine delivery could help airliners mitigate losses in Q4 2020 via their cargo business. In fact, mentions of the word 'cargo' and related keywords have grown by around 18% in 2020* as this emerged as a key discussion agenda in the earning transcripts of airline operators worldwide, according to the Filing Analytics tool by GlobalData, a leading data and analytics company. Airline companies may be able to use cargo services as a risk-mitigation strategy amid volatile market conditions following COVID-19.
Rinaldo Pereira, Senior Analyst at GlobalData, notes: "The second wave of COVID-19 has further delayed travel recovery. With governments pushing for the quick release of high-efficacy vaccines, airlines with delivery preparedness could aid in transport to reduce losses, while keeping otherwise grounded aircraft functional.
"With 61% of consumers surveyed by GlobalData noting they intended to stay home as much as possible amid the pandemic, airliners are having to look at alternative avenues to steady the ship. Unlike peers Flybe, Virgin Australia and LATAM Airlines, which filed for bankruptcy this year, Korean Air was kept afloat by focusing attention on alternative revenue streams – such as its well established carriers business – leading to the company seeing operating profits for Q2 and Q3 despite sharp travel declines. Cargo businesses could be a bright spot for airline operators and help save them from the same fate as their peers."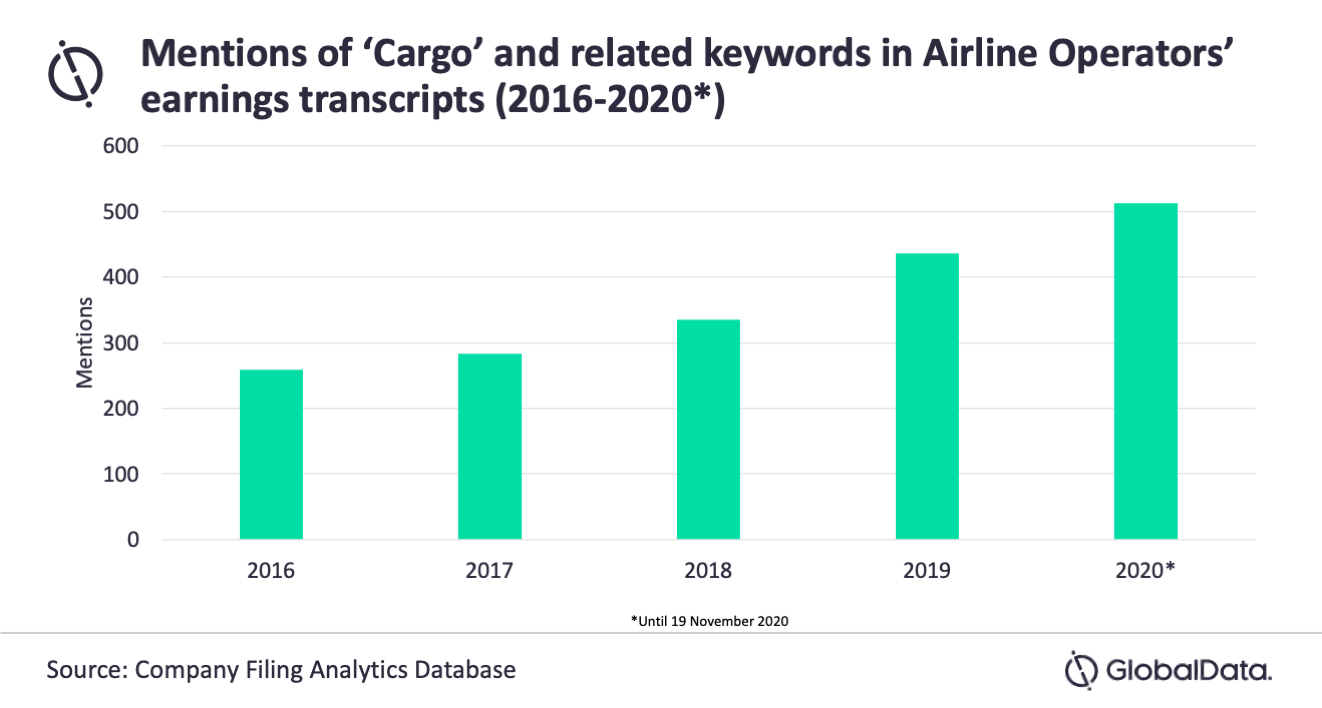 It isn't just Korean Air – Lufthansa witnessed profits for its cargo business improve in Q3 (cargo revenue rose by around 4% in the first nine months of 2020 compared to the same period a year ago) and United Airlines saw cargo revenues grow by around 50% in Q3 2020 compared to Q3 2019.
*Until 19 November 2020