28 Sep 2020
Chinese insurer Ping An leads the way in insurers' COVID-19 response, says GlobalData
Posted in
Coronavirus
Ping An is one of few insurers, in particular one of few established insurance companies, that has provided a strong proactive response to the pandemic for its customers. According to GlobalData's thematic research, Ping An stood out across the board and ranked first overall.
GlobalData's thematic insurance scorecard ranks insurers based on how they are placed to cope with defining industry trends. Ping An was noted to be considerably better than its nearest competitors in the COVID-19 response theme. It scored the top available mark in AI, Internet of Things (IoT), demographics sustainability, computer vision and insurtech, but perhaps saw the most separation from its competitors in 'coronavirus' category.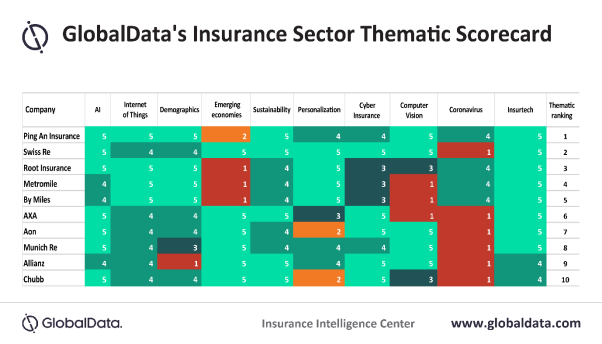 Daniel Pearce, Senior Insurance Analyst at GlobalData, comments: "It has been indicated from GlobalData's research that insurtechs such as Ping An were able to deal with the pandemic well as their small size allows these companies to adapt quickly. Moreover, insurtechs have a stronger position because they are more likely to offer usage-based insurance, which is better suited to consumers at this current moment. Metromile, for example, offers car insurance by the mile, which may be preferable while countries are on lockdown or the majority of consumers continue to work from home – making them less likely to drive."
However, Ping An – a property and casualty and life and health insurer – received the joint top score of four within the 'coronavirus' category – despite being one of the largest insurers in the world. The company scored well here because of its available smart image-reading system, which helped control the pandemic in February 2020 by assisting doctors to make efficient and early diagnoses.
Ben Carey-Evans, Insurance Analyst at GlobalData, comments: "Ping An has been extremely proactive in using its strength in artificial intelligence (AI) – a category in which it scores the highest mark – to improve early diagnoses of the pandemic. COVID-19 is undoubtedly the key issue for insurers in the immediate future, and global insurers should be looking at how proactive Ping An has been in responding to it."