27 May 2020
Clinical trial disruption due to COVID-19 likely to continue, although trial activity has slowly started to resume
Posted in
Coronavirus
Although the number of clinical trials that have suspended enrolment due to COVID-19 is leveling off, the overall disruption of trials continues to expand, says GlobalData, a leading data and analytics company.
The company has been tracking the number of clinical trials that have been disrupted due to suspension of enrolment, slow enrolment or delayed initiation.
Revati Tatake, Global Director at GlobalData, comments: "Although there are relatively fewer trials as compared to suspended trials, the uptick in trials impacted by slow recruitment and delayed initiation is contributing to the continued growth of overall disrupted trials."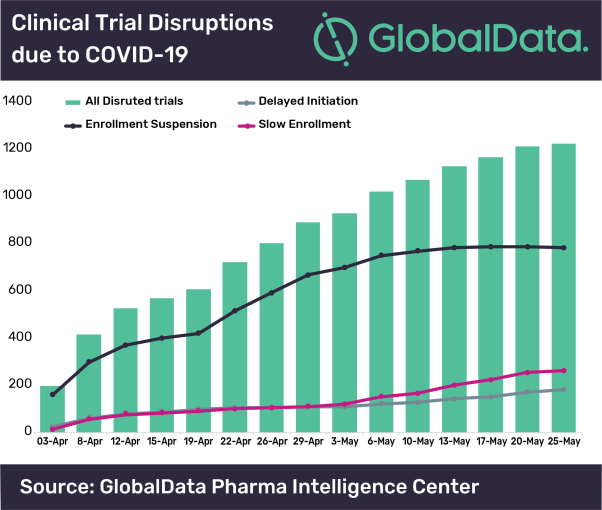 Currently, there are over 130 trials worldwide that have now resumed activities – having previously suspended recruitment due to COVID-19. These have either now completed recruitment or are in the process of recruiting participants.
Tatake continued: "While trial suspensions has appeared to have reached a plateau, this is somewhat deceptive as the overall suspended trial number has not decreased much due to new suspended trials that are being identified."
The US Food and Drug Administration (FDA) has issued industry guidance to help trials proceed during the pandemic. Alternate contact methods such as virtual visits, self-administration of investigational drugs where possible, and remote monitoring can help even after the quarantine and travel restrictions are lifted.
Tatake added: "The upward trend for clinical trial disruption may eventually turn around, but it is likely to take time as trial sponsors adjust to the guidance by the FDA, along with a possible shift toward decentralized trials."