20 Nov 2020
Constrained capacity of air cargo and booming e-commerce bolster FedEx performance
Posted in
Retail
The COVID-19 pandemic has resulted in a surge in demand for e-commerce, driving the performance of several package delivery services providers such as FedEx Corp, according to GlobalData, a leading data and analytics company.
According to GlobalData's Company Reports database, FedEx recorded a 234.7% growth in its operating profit, which amounted to $1.59bn in fiscal year ending Q1 2021 (August 31, 2020) when compared with the $475m in the previous quarter. As a result, the company's operating margin improved to 8.2% from 2.7% in Q4 2020 (May 31, 2020). Its premium International Priority package volumes also grew 31% on an annual basis (Q1 2021 vs Q1 2020).
Alisha Bajpai Singh, Company Profiles Analyst, GlobalData, says: "FedEx has been implementing peak surcharges to balance costs of shipments for large customers. Upward revision in pricing supported package yields and helped it to return a profit."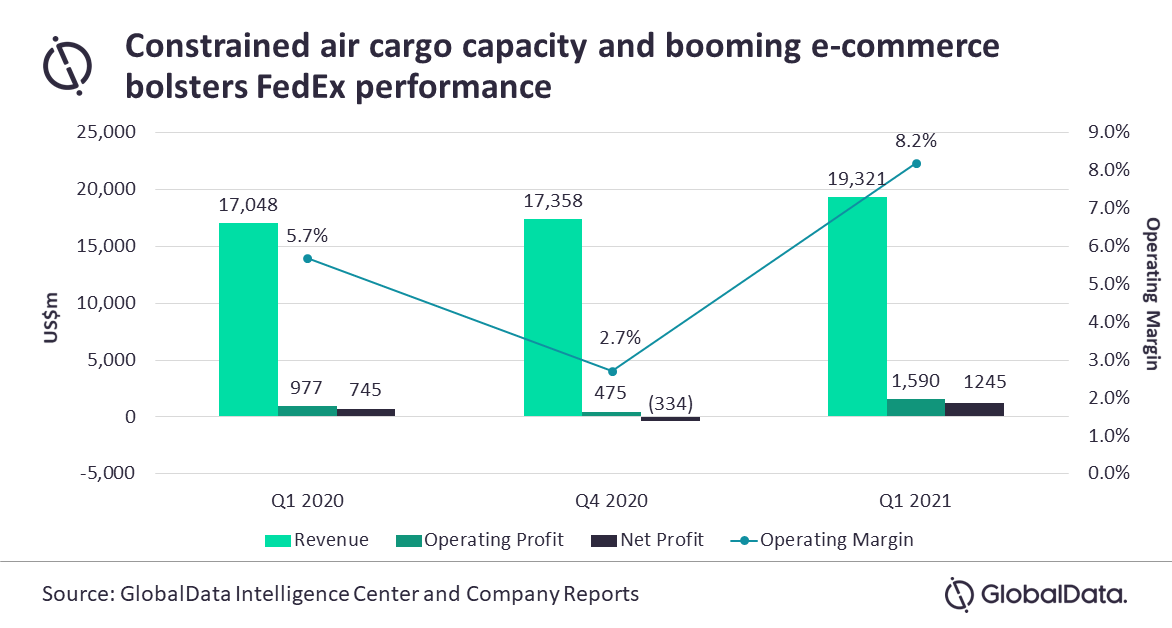 Elevated volumes of the domestic residential package services in the US and FedEx International Priority, and improved yield in FedEx Freight and FedEx Ground businesses, further expedited profits.
Ms Singh noted: "A considerable trim in air cargo capacity due to the deprivation of capacity in commercial airlines and booming e-commerce had a significant positive effect on the company's results. It was also benefitted by a decline in the aviation excise taxes under the CARES Act."
According to GlobalData's Retail Intelligence Center, the global e-commerce market is expected to exceed $7 trillion in 2024, owing to the consumers' shift to online channels amid the COVID-19 pandemic.
Although many sectors are struggling to stay afloat with revised business models and subdued business outlooks, there are e-commerce giants for which the pandemic has proven to be a boon.
Ms Singh adds: "The consumer purchasing behavior significantly shifted towards e-commerce during the COVID-19 period driven by necessity, isolation and lockdowns. This behavior could continue beyond 2020, as a second wave of the pandemic and subsequent reimpose of lockdowns could become inevitable".
FedEx expects 96% of the growth of its US business to be generated by the accelerated e-commerce market. The company has been collaborating with its largest e-commerce merchants to prepare for demand spikes arising from COVID-19 vaccine distribution in the near future; as well as to benefit from diminished air cargo capacity.
Singh concludes: "The company could count upon the flourishing e-commerce market and lower air cargo capacity for further growth in the short-term. COVID-19 and changed consumer behavior could have a long-term positive impact on the e-commerce sector but the continuing vulnerability in the economic environment could still restrict its earnings."