22 Apr 2020
COVID-19 likely to replicate financial crash results for European travel insurers
Posted in
Insurance
The European travel market is facing considerable long-term challenges due to the vast number of COVID-19 cases spreading around the continent. Cancelation costs attributed solely to COVID-19 are expected to total £275m, which is 85% higher than the previous peak in 2010 during the Icelandic volcanic eruption, according to GlobalData, a leading data and analytics company.
The company's webinar, 'COVID-19 Sector Impact: Insurance' highlights that key travel insurance markets such as the UK, Netherlands, Finland, Sweden, Denmark and Germany have travel insurance uptakes between 30-50%. In addition, the UK, Netherlands and Germany are key travel markets that have all recorded high numbers of cases.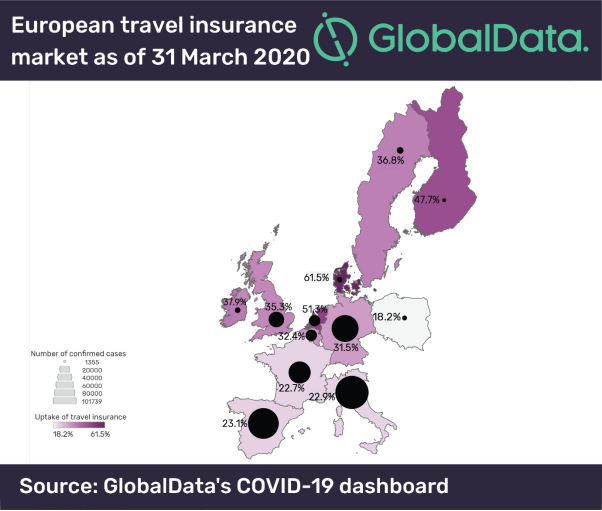 Daniel Pearce, Senior Insurance Analyst at GlobalData, comments: "Such a dramatic increase in cancelations will undoubtedly impact the performance of insurers in the market. In 2010, premiums increased following the spike in claims and a similar outcome should be expected here.
"Economic slowdown is a real possibility with measures such as the interest rate cut being an indication of this. Looking towards the most recent example of this, the 2008 financial crisis highlights that GWP fell by 4.6%, and more damaging results should be expected."