The COVID-19 pandemic is set to impact the pharmaceutical industry in a profound way, according to GlobalData, a leading data and analytics company. From postponed and suspended clinical trials to stockpiling of painkillers causing disruption to supply chains, the medical marijuana industry is also expected to be affected by the ongoing crisis.
GlobalData's report: 'Medical Marijuana: Consumers' Perspectives' is informed by a research survey that explores in detail the opinions of consumers in the US and UK about the current state of the medical marijuana industry.
Magdalene Crabbe, Pharma Analyst at GlobalData, comments: "A significant percentage of survey respondents from both countries were concerned about out-of-pocket costs with regards to accessing treatment with medical marijuana products."
With social distancing measures and the reluctance of people to leave their houses, more patients may require their treatment to be delivered to their front door.
Where this is not possible, marijuana dispensaries in the US have introduced a number of social distancing-friendly measures to allow patients to access medication.
Crabbe explains: "Some dispensaries are serving consumers with designated appointments and others are only allowing a certain number of customers to enter the premises at any one time."
GlobalData's research found that a significant percentage (36%) of survey respondents felt that the single most concerning aspect of treatment with medical marijuana was the possibility for products to cause undesirable psychological side effects. Treatment-related costs, the risk of addiction, and the stigmatization of medical marijuana were the primary concerns of 28%, 25%, and 6% of consumers from both countries, respectively.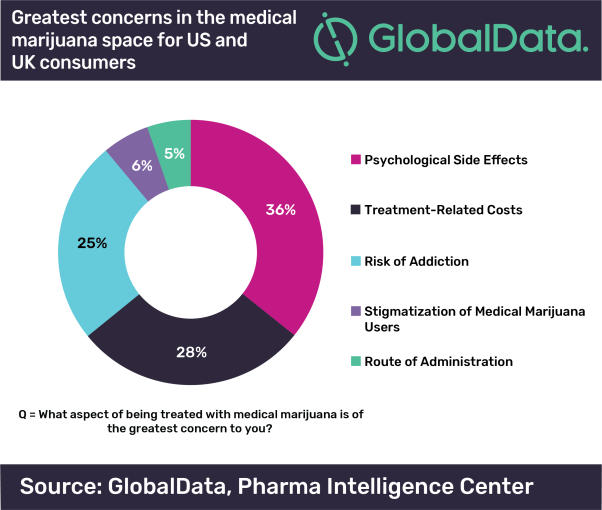 Crabbe continues: "In the UK, very few allowances are made for people to access medical marijuana, but primary research suggests that some patients may be able to buy some products in bulk, in light of the chaos the COVID-19 crisis is invoking on supply chains and production facilities."
With disorders such as anxiety and depression expected to become more prevalent as a result of the COVID-19 pandemic, the number of people opting to self-treat mental illness with medical marijuana may increase, potentially putting a strain on resources.
To reduce the impact of this burden, some state dispensaries are only serving customers with a valid medical marijuana registration card.
Crabbe concludes: "Although there are concerns about spending more money to buy medicines in bulk, this issue is only expected to last for as long as the COVID-19 crisis remains out of control. Once an effective vaccine or anti-viral drug becomes available, the issue of treatment costs in this area will become less significant. This is because unmet needs such as developing drugs with favorable safety and efficacy profiles will become more prominent as more products enter the market in the next few years."