16 May 2020
COVID-19's effect will boost infectious disease drug approvals and present opportunities to CMOs
Posted in
Pharma
In response to the global pandemic, biopharma companies have put a renewed emphasis on finding treatments for infectious diseases, including COVID-19 and other infectious diseases overall. In early May, there were 312 novel pipeline drugs for COVID-19, of which 11 were in Phase III trials, according to GlobalData's Drugs database.
Adam Bradbury, Associate Analyst at GlobalData comments: "Based on GlobalData's Pharma Intelligence Center data, the overall number of novel FDA-approved drugs to treat infectious diseases increased between 2015 and 2018, long before the coronavirus crisis emerged. Within this range, 2016 was a poor year overall for FDA approvals, and the US Government shutdown in 2019 negatively affected FDA activity. Given the current pipeline of late-stage drugs for infectious diseases, GlobalData expects the number of overall infectious disease approvals to rise in 2020."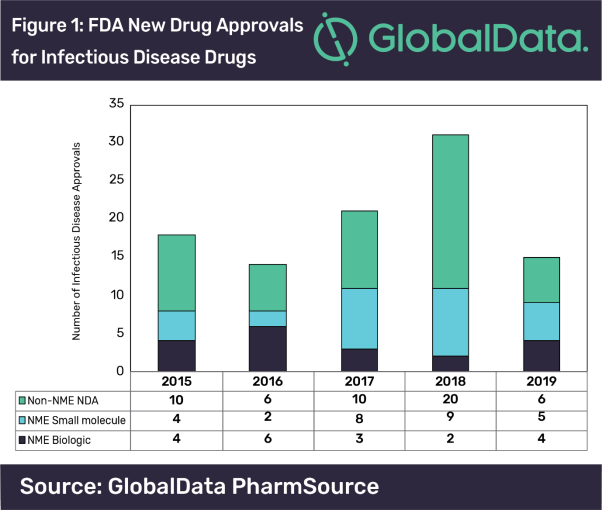 The $2 trillion emergency relief bill signed on March 27th will ease the economic impact of COVID-19 and help with response efforts. The bill provided the FDA with an additional $80m in funding, which will facilitate its COVID-19 response efforts, including the development of medical countermeasures and vaccines, as well as the promotion of advanced manufacturing of medical products.
Bradbury continues: "Overall, the proportion of small cap companies that sponsored infectious disease approvals increased from 5.6% in 2015 to 26.7% in 2019. Small cap companies tend to lack capital resources, which makes them more likely to outsource manufacturing to a contract manufacturing organization (CMO).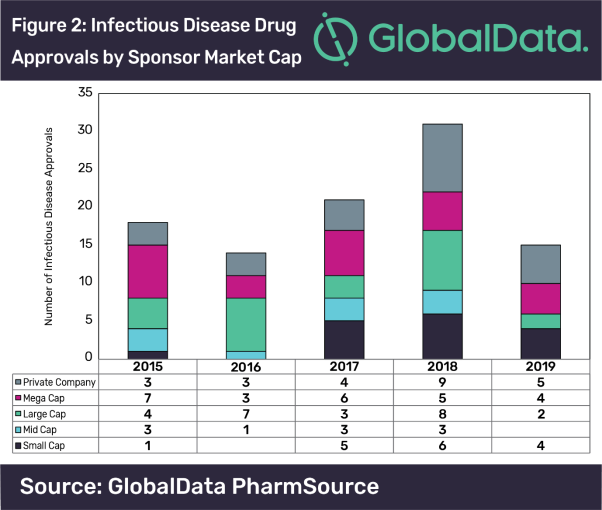 "There is a diverse mix of different market cap groups for 2015–2019, but a significant proportion are attributable to large or mega cap companies. These often represent more limited business opportunities for CMOs, as these companies are more inclined to invest in their own internal manufacturing capabilities rather than choose to outsource.
"A total 50% of dose-outsourced products in 2019 have small-cap sponsors. The dose-outsourcing propensity for infectious disease novel approvals has decreased from 2015, when it accounted for 50% of approvals, to 2019, when it accounts for 26.7% of approvals.
"GlobalData shows that for all FDA novel approvals in 2015–2019, the outsourcing propensity for new molecular entities (NMEs) has been relatively stable, whereas it has decreased for non-NME NDAs across the same period. However, it should be noted that accelerated approvals are normally good news for CMOs that are looking to take on new business, as sponsor companies look to increase their speed to market; this limits the time they have available to develop their own manufacturing capabilities."