09 Jun 2020
Demand for connected home insurance will fall as consumers stay at home, says GlobalData
Posted in
Insurance
COVID-19 will limit the uptake of connected home insurance policies, despite the pandemic making consumers embrace technology, according to GlobalData, a leading data and analytics company. Digitalization is a key trend across all industries, as consumers and businesses avoid face-to-face interactions. However, connected home technology will suffer it is less necessary with people spending significant amounts of time at home.
GlobalData senior insurance analyst, Daniel Pearce, commented: "GlobalData's 2019 UK Insurance Consumer Survey indicates that the use of the different technologies by home insurance policyholders increased across all devices in 2019. Such a trend is good news for insurers offering connected home insurance policies, as certain technologies such as water leak detectors and smart security systems will help reduce the cost and frequency of claims."
However, the spread of COVID-19 has resulted in the UK Government implementing lockdown measures, which have resulted in an unprecedented increase in the amount of time spent at home by individuals.
Pearce continued: "An increase in time spent at home will undoubtedly reduce the uptake of certain devices that would otherwise benefit home insurance providers. For example, policyholders will now be less inclined to purchase a water leak detector as they will inevitably feel they will be able to spot a leak quicker given they are at home more. With claims relating to water leakages being one of the biggest challenges faced by providers, such a trend will be concerning to those looking to incorporate the technology into their policies."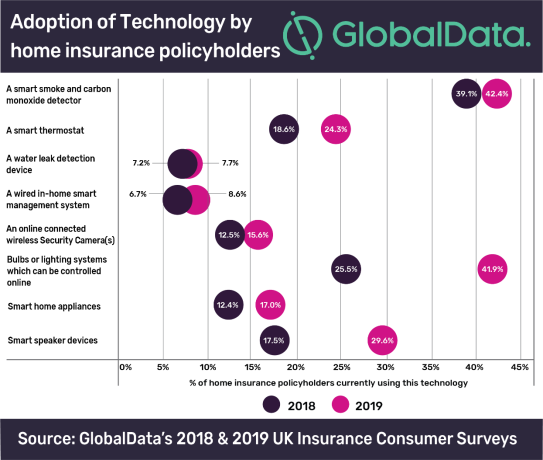 Pearce added: "Due to the looming economic recession and fall in disposable income, individuals will no longer have the means to purchase such technology. This creates a problem for the connected home insurance proposition, as the technology is costly and is typically purchased by the consumer. This is because the competitive nature of the home insurance market makes it near impossible to pass on the cost to policyholders through higher premiums. Insurers offering the technology for free will also face challenges given the fine margins on which the home insurance market typically operates.
"When combined, the implications of the lockdown and reduced disposable income will limit the rate at which technology can be incorporated into home insurance policies, meaning the benefits the technology can bring will not be seen for some time."