12 Mar 2020
Diagnosed incident cases of renal cell carcinoma in 8MM projected to increase by 18.6% over next decade, says GlobalData
Posted in
Pharma
Diagnosed incident cases of renal cell carcinoma (RCC) in the eight major markets (*8MM) are projected to increase from 0.20 million cases in 2018 to 0.23 million in 2028, at an annual growth rate (AGR) of 1.86%, according to GlobalData, a leading data and analytics company.
Of the 8MM, China is expected to have the highest number of diagnosed incident cases in 2018, increasing at an AGR of 2.42% (2018–2028), followed by the US at 2.10% and Spain at 2.06%.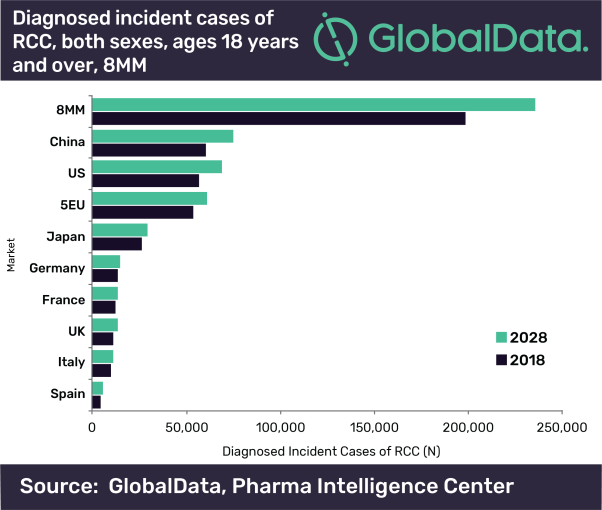 Image for publication: Please click here to download
GlobalData's report, 'Renal Cell Carcinoma – Epidemiology Forecast to 2028', highlights that the major drivers for the upward trend in the diagnosed incident cases of RCC in the 8MM over the next decade is attributable to the increasing trend in the incidence of RCC coupled with an aging population.
Suneedh Manthri, Associate Project Manager of Epidemiology at GlobalData, says: "RCC is asymptomatic in the initial stages, therefore people with RCC are often diagnosed in advanced stages of the disease, impacting the quality of life of the individual and the associated healthcare burden.
"RCC is primarily a disease of the elderly, and because the etiology of the condition is poorly understood, there is an unmet need for epidemiological studies to better understand the etiological factors so that effective preventive measures can be envisioned."
*8MM: The US, France, Germany, Italy, Spain, the UK, Japan and China