Athletic apparel designer Lululemon witnessed Q2 2020* sentiments grow by around 19% compared to Q1 2020 on the back of sales growth driven by its e-commerce boom, says GlobalData, a leading data and analytics company.
Rinaldo Pereira, Senior Analyst at GlobalData, says: "While uncertainty due to the COVID-19 pandemic impacted sentiments in Lululemon's Q4 2019 transcript, shuttered stores during Q1 2020 did not affect sentiments, as e-commerce sales and gym-at-home trends proved to be a boon. Lululemon continued to witness declining YoY sales in company-operated stores during Q2 2020 due to closures. However, skyrocketing online sales steadied the ship and showcased its strong digital capabilities."
Lululemon acquired home fitness brand Mirror in June 2020. The company expects to capitalize on the rise in consumer traction for at-home workouts while competing in the space with players such as Nike and Peloton.
Pereira adds: "Despite Mirror currently being a small portion of Lululemon's revenue, its recurring monthly subscription revenue is a bright spot. In its recent transcript, Lululemon raised its 2020 revenue expectations for Mirror. The sentiment bounce could have been even better if Lululemon updated its financial outlook."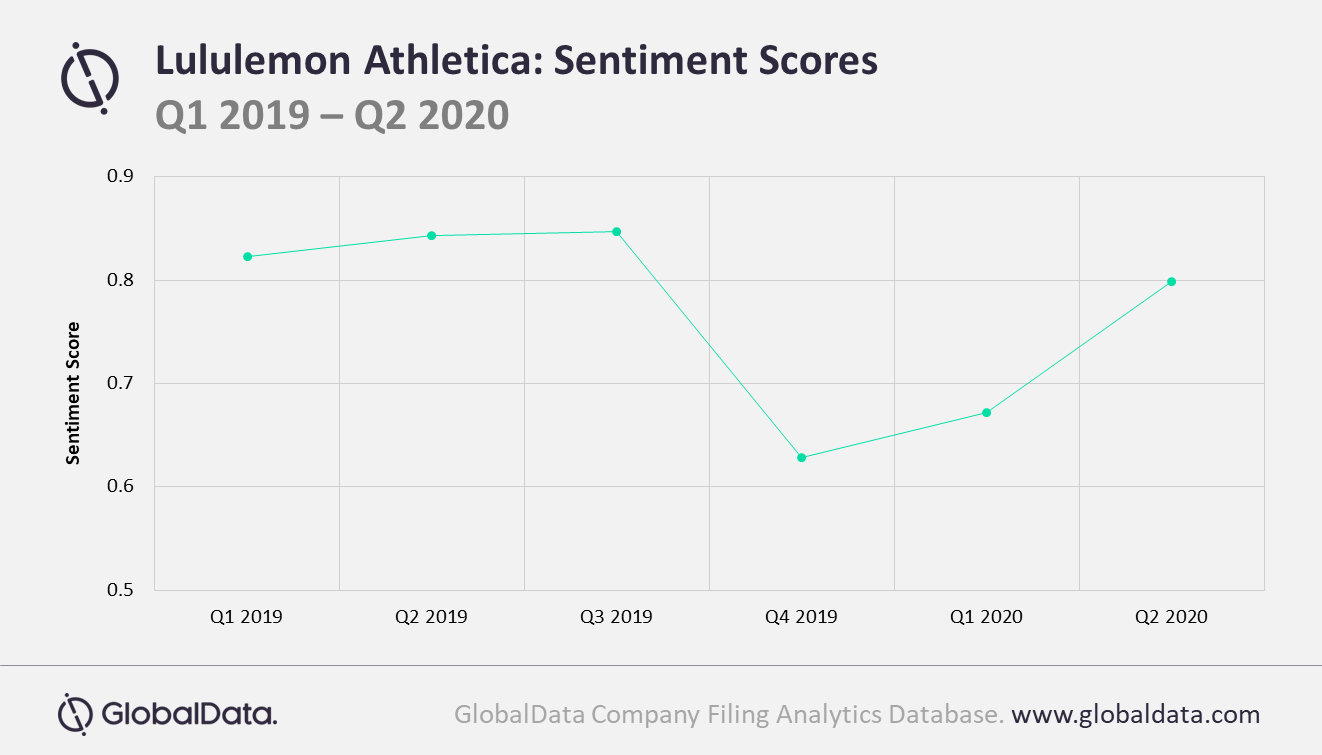 GlobalData's Filing Analytics identified 'Digital' and 'E-Commerce' as the top keywords in Lululemon's Q2 2020 earnings transcript. Unlike other bankrupt retail companies that failed to gain digital sales, Lululemon has fared quite well. The company's virtual waitlisting and curbside pick-ups gained traction at its stores, as Lululemon continued focusing on preventing long lines while following social distancing. The Chinese business also rebounded strongly during the quarter, while opening nine new stores in Asia and Europe.
Pereira concludes: "Lululemon expects to raise its marketing expenditure to scoop up holiday season gains while benefiting from the spend-at-home trend. The company is also looking forward to bolstering the Mirror brand come holiday season, as at-home fitness trends are likely to continue well into 2021."
*Ended August 2, 2020, transcript released on September 9, 2020