13 Nov 2020
Discussions around customer engagement gaining more traction during COVID times, says GlobalData
Posted in
Consumer
Customer engagement strategies are more important than ever before as many consumer behaviors, needs and preferences have drastically changed amid the COVID-19 pandemic. In fact, according to the Company Filing Analytics platform by GlobalData, discussions in firms' filing documents and earning transcripts around 'customer engagement' grew by 6% in Q1-Q3 2020 compared to Q1-Q3 2019. For businesses to effectively enhance customer engagement, it is necessary to establish a robust online presence, have access to efficient retail channels and utilize market-leading technologies to manage inventory and consumers effectively.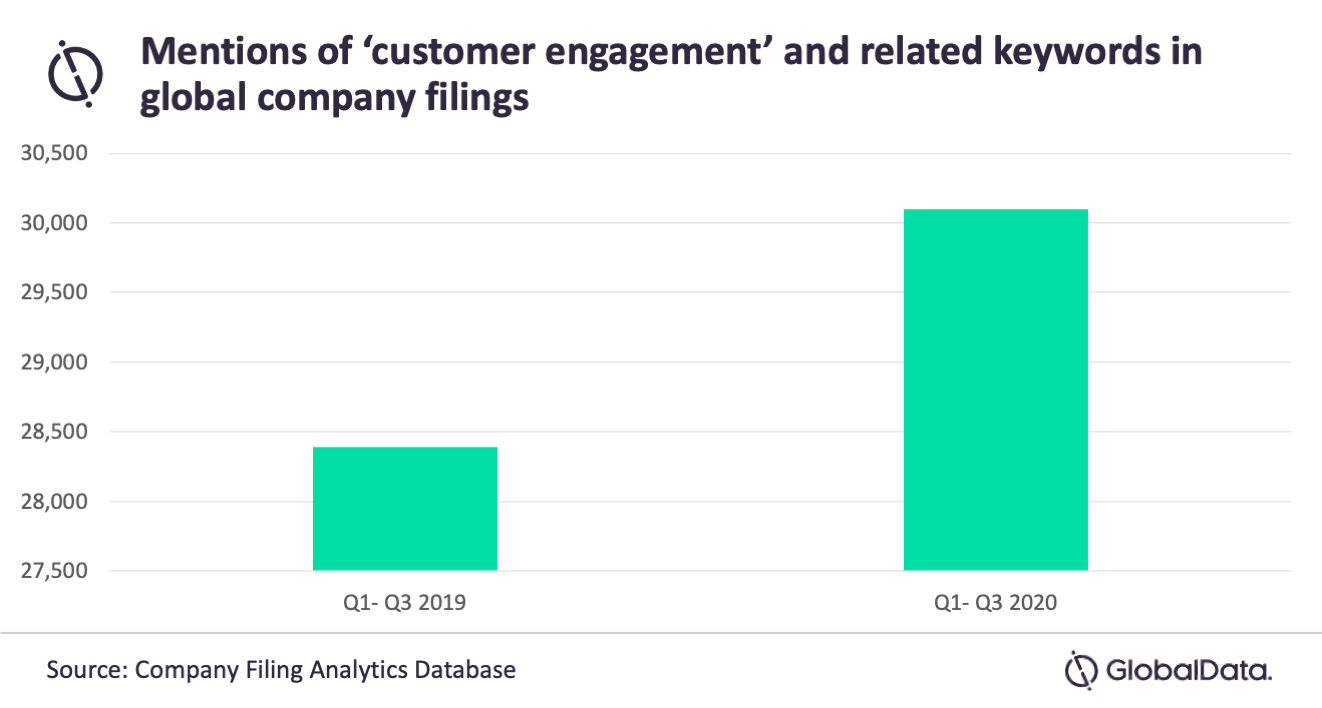 Rinaldo Pereira, Senior Analyst at GlobalData, says: "Since it's metamorphosis into a powerful advertising tool, many businesses have used social media to reach potential customers. Incidentally, global company filing discussions with 'social media' and 'customer engagement' keywords in the same statement grew by around 31% in Q1-Q3 2020 compared to the same period a year ago."
Carmen Bryan, Consumer Analyst at GlobalData, comments: "As 2020 comes to a close, it has become clear just how pivotal digital strategies and social media campaigns are to FMCG brands. Homebound consumers have increasingly turned to social media to offset their boredom, soothe their anxieties and follow global developments of the pandemic and economy, creating a crucial platform for companies – particularly those hard hit such as the foodservice or spirits sectors – to increase their exposure and engagement.
"In fact, as per GlobalData's COVID-19 tracker survey, published 10 November, *27% of global consumers admitted that they intend to spend more time browsing on social media since the COVID-19 outbreak; in terms of following online reviews or blogs about products and trends, this response stands at *23%. While COVID uncertainty persists, the face of consumerism is only going to become more digital."
The social media ad space can be indispensable for retailers to spread their operations and generate income.
Pereira adds: "Major e-retail players such as Alibaba and Amazon have incorporated a combination of artificial intelligence (AI) and social media influencers to their marketing strategies. Amazon, for example, is utilizing several live streamers to broadcast products on its Amazon Live service."
Nicklas Nilsson, Senior Thematic Analyst at GlobalData, adds: "AI-driven customer engagement capabilities such as chatbots, visual search apps and recommendation engines make shopping experiences – both online and offline – more efficient, drive growth and improve overall customer satisfaction. Alibaba and Amazon are leaders when it comes to incorporating AI-based online shopping tools, both scoring a five out of five for AI in GlobalData's Thematic Scorecard for Social Media – indicating that these companies' activities with regards to this theme will significantly improve their performance over the next two to three years."
The online shopping boom triggered by COVID-19 has also forced traditional retailers such as Walmart to further digitize operations, with the introduction of Walmart Plus to compete with Amazon. At the same time, Nike has availed the benefits of its massive social media presence by capitalizing on livestream workouts and digital fitness challenges. Meanwhile, chatbots have revolutionized customer engagement for banks such as Royal Bank of Scotland and HSBC.
* Combined responses: "I intend to spend slightly more time on this than before", "I intend to spend significantly more time on this than before", and "I have never spent time on this, but will start doing so now"