12 Jan 2021
'Dry January' 2021 sees Brits participate in record numbers, giving hope for non-alcoholic disruptor brands, says GlobalData
Posted in
Consumer
As COVID-19 continues to dominate much of the global conversation, 2021 looks set to be defined by a renewed sense of health and wellbeing. In fact, GlobalData's research found that *1over half (52%) of British millennials prefer to buy products that claim to influence health and wellbeing. This aligns with UK-based charity, Alcohol Change, which announced that this year's Dry January has seen a record-breaking sign-up, reflecting significant potential for a new wave of non-alcoholic disruptor brands, says GlobalData, a leading data and analytics company.
Jim Toy, Consumer Analyst at GlobalData, comments: "Alcohol can often have negative connotations when it comes to health and brands are rightly learning that they need to cater for the increasing abundance of young consumers demanding low or no ABV craft innovations."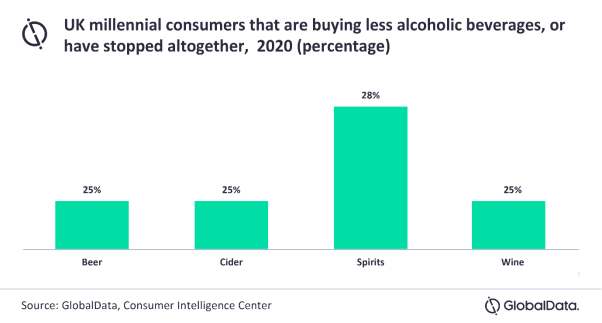 It is clear that the pandemic has significantly impacted younger consumers' spending on alcohol. According to GlobalData's latest recovery tracker, which was published December 2020, *2one in four UK millennials have either reduced or cut their alcohol consumption across all categories since the start of the pandemic. There are a number of underlying reasons for this – from budgetary restraints to a lack of social occasions in 2020 – but a rise in holistic health awareness, particularly in terms of mental fortitude and welfare during lockdown periods, is one of the most universally accepted.
Toy continues: "Recently, alcohol manufacturers have taken bold decisions to introduce their first 'free-from' options to their product line-up. As the pandemic continues, social drinkers will be more likely to align with the teetotal movement. In fact, this month gives younger age groups an opportunity to grow new purchasing habits that may significantly influence their own drinking habits, plus have a knock-on effect for years to come as younger generations grow older.
"Brands are looking at events such as World Vegan Day and Dry January not just to trial a novelty product. Events like these now serve as testbeds to encourage new consumer habits. With the cocooning trend promoting more people to try new activities and products, the future may present lucrative opportunities for alcoholic beverage brands to diverge from their roots, even at the risk of cannibalizing their more traditional products."
* 1 GlobalData's COVID-19 recovery tracker survey – week 11, published 7 December 'Often' and 'always' responses combined
* 2 GlobalData's COVID-19 recovery tracker survey – week 11, published December 7th – combined responses: "I have stopped buying this", "I am buying significantly lower quantities than before", and "I am buying slightly lower quantities than before".