18 Nov 2019
Election and continuing Brexit uncertainty will stifle retail spend this Christmas
Posted in
Press Release
After over a year of average wage growth outstripping inflation, retailers should have been able to look forward to a bumper Christmas. However, the effect of continual uncertainty over Brexit, combined with a pivotal general election occurring right in the middle of the festive season, means total retail is forecast to grow by just 1% in Q4 2019, says GlobalData, a leading data and analytics company.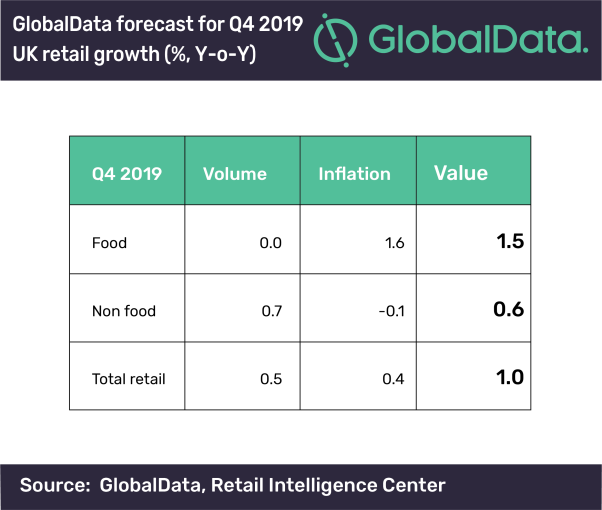 Image for publication: Please click here:
Patrick O'Brien, UK Retail Research Director at GlobalData, comments: "Growth of just 1% this Christmas, against a low comparative of 1.3% last year, would be the worst result since 2011 and points to how tough the current retail environment is. However, there is hope that the outcome of the election will give a decisive result, which could at least unlock purses and wallets in the last two weekends before Christmas. Another hung parliament pointing to further elections, another referendum or a continued Brexit stalemate, could see that last-minute, present-buying rush turn into more of a wake for retailers.
"Online retail will continue to grow much faster than the overall market, though discounting will be rife during the period. Black Friday offers will once again start well before the main day with promotions continuing from this point up until Christmas with sales launching earlier than ever as retailers grapple for a slice of shopper spend, despite taking a hit on margins."
Food & Grocery: Q4 2019 growth +1.5% (Q4 2018: +1.9%)
The food & grocery sector is forecast to do better than overall retail, but it will still be challenging with year-on-year volume growth forecast to be flat, as consumers restrict food spend to reduce overall Christmas expenditure.
Following on from a successful Christmas period last year, GlobalData expects Aldi and Lidl to continue to gain market share, both through attracting more price-focused shoppers and increasing their accessibility to consumers via wider store networks. The grocer with the greatest expectations of a turnaround will be M&S, which experienced a disappointing decline of 2.1% in food like for like (l-f-l) sales in Q4 2018. However, with its food division showing initial signs of improvement, M&S will be hoping that the combination of its established quality reputation and its ongoing change in strategy to focus on value, will help steal shoppers from its Big Four rivals.
Non Food: Q4 2019 growth +0.6% (Q4 2018: +0.9%)
Clothing & footwear
While temperatures falling in October provided a spot of relief for fashion players, retailers are now back under pressure to deliver meaningful Black Friday discounts to entice consumer spending – a tough ask given the rife promotional activity so far this year, with shoppers becoming more immune to discounts. We expect many consumers to hold back in Q4 as priorities continue to shift away from fashion, and indeed retail. The likes of JD Sports, ASOS and Primark are expected to sparkle this Christmas owing to eye-catching propositions and hyper-engaged shoppers. This is in stark contrast to Debenhams, M&S and Arcadia's anticipated festive fortunes, hard as they may try to lure shoppers back.
Health & beauty
While growth will be softer versus 2018, health & beauty will continue to be one of the most resilient sectors in Q4, benefiting from weaker demand for discretionary clothing & footwear purchases, as well as rising interest in premium health and wellness products – especially following the news of a winter flu epidemic.
We expect discounting to be prolific in Q4, led by struggling department stores Debenhams and House of Fraser in an effort to drive much-needed traffic to aid the performance of other sectors if they can successfully encourage cross-sector browsing – a tall ask. Boots will also rely on promotions across beauty, skincare and fragrance to try and recover weak l-f-l sales and compete with the online specialists, Superdrug, Amazon and ASOS.
In response to under-performing third-party players, premium brands will focus on selling directly to consumers via their online platforms, social media and flagship stores, with seasonal exclusives, gift wrapping services and free gifts with purchases attracting brand-loyal shoppers. Meanwhile, the popularity of beauty advent calendars is expected to heighten once again, with new brands and retailers targeting the category for add-on expenditure and customer acquisition opportunities.
Electricals
How electricals retailers' long-planned promotions for Black Friday perform will be key to the sector's Q4 performance. Last year, Amazon offered up to 50% off its own-brand smart speakers, including the latest iteration of the Amazon Echo and shoppers used this as an opportunity to invest in this innovative technology. While discounting may reach this level again this year, there will be less demand from the tech enthusiasts that already own these products. In comparison, the likes of smartwatches, fitness trackers and computers are set to perform well with greater newness on the market from the likes of Apple, Samsung and Huawei. While Q4 2019 will not be the weakest quarter of this year for electricals, it is forecast to be the lowest Q4 growth since 2016 and highlights the big impact that low consumer confidence has had on big ticket purchases.