19 Mar 2019
Electrophysiology catheters global market set to reach $3.9bn by 2028, says GlobalData
Posted in
Press Release
The global electrophysiology catheters market is expected to reach $3.9bn by 2028, growing at a compound annual growth rate (CAGR) of 4.1%, according to GlobalData, a leading data and analytics company.
The company's reports, 'Electrophysiology Ablation Catheters – Cardiovascular Market Analysis and  Forecast Model' and  'Electrophysiology Diagnostic Catheters – Cardiovascular Market Analysis and Forecast Model' reveal that within electrophysiology diagnostic catheters, steerable catheters maintain the largest share in the market. However, while irrigated tip catheters have the largest share in the electrophysiology ablation catheters market, cryoablation catheters are the fastest growing segment, estimated to grow at a CAGR of 4.4% by 2028.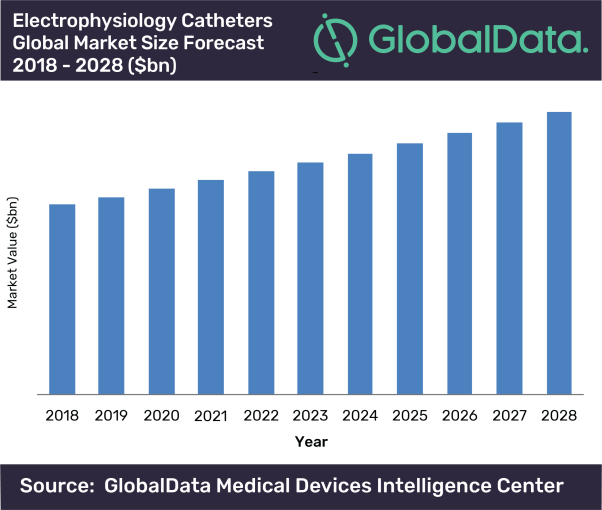 IMAGE FOR PUBLICATION: Please click here for enlarged chart
Sheryl Tang, Medical Devices Analyst at GlobalData comments, "The increasing incidence of atrial fibrillation due to lifestyle factors and cardiovascular diseases is driving the growth of the electrophysiology catheters market. Electrophysiology ablation also demonstrates better outcomes compared to lifelong pharmaceutical treatment, driving procedure numbers and companies to invest in the market."
Barriers to market growth, particularly in developing countries, include the high cost of building labs specifically for electrophysiology procedures, as well as training specialists to perform the procedure.
Tang concludes, "While patients have the option of pharmaceutical treatment for atrial fibrillation, electrophysiology ablation would eliminate the need for lifelong medication. Cryoablation shows the strongest potential for growth; it is a device that requires less precision than a radiofrequency ablation catheter while demonstrating similar patient outcomes. With only one company monopolizing that market along with the growing patient pool, it is only a matter of time before other major manufacturers enter the cryoablation market."