24 Jan 2020
Employees should tailor benefits packages to maximize employee satisfaction, says GlobalData
Posted in
Insurance
A recent survey has found that there are differences in the priorities of different generations when it comes to employee benefits packages, and employers should maximize packages by giving employees what they value most, says GlobalData.
GlobalData's UK SME Adoption of Employee Benefits 2019 report found that older generations within the workforce (baby boomers and generation X) are more concerned about financial benefits, with pensions being the standout difference. Over two thirds (39%) of baby boomers consider pensions to be the most valued benefit, while just 10.3% of generations Z hold that opinion. The report also highlights that the youngest generation is more concerned with work-life balance (26.3%), financial benefits (16.4%) and health benefits (14.2%).
Ben Carey-Evans, Insurance Analyst at GlobalData, said: "Employers should tailor benefits packages, at least by generation. Employees fifty years away from receiving pensions are understandably not particularly enthused by them. Therefore, it would be wise to consider offering alternative work-life balance benefits, such as flexible working hours, gym memberships or extra holiday purchase options.
"The survey highlights how important benefit packages are to staff. We asked what prompted employees to include 18 different products into their and between 75%-90% of respondents said they were employee-driven. This means the company offered the product either due to direct employee demand or proactively as a measure to help retain staff, as opposed to it being suggested by an advisor.
"Employees' demand being at the heart of the reason why benefits are offered and employers should take the time to ensure their staff are satisfied with their packages. It is increasingly important for the emerging workforce – with over a quarter willing to sacrifice salary for an improved benefits package."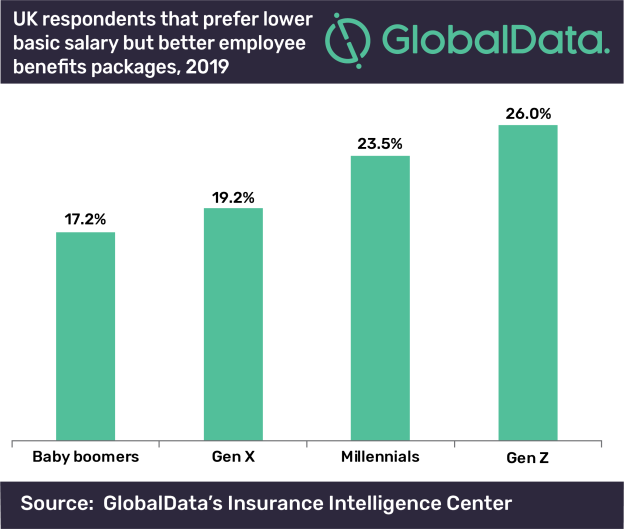 IMAGE available: UK respondents that prefer lower basic salary but better employee benefits packages, 2019
Carey-Evans continued: "GlobalData's 2019 Insurance Consumer Survey data illustrates that younger generations are slightly less driven by pure financial measures such as basic salary and pensions. This represents an opportunity for employee benefits providers, as a significant percentage of the emerging workforce would be open to a reduced salary if an attractive range of benefits are offered.
* Chart data from GlobalData's 2019 UK Insurance Consumer Survey