FAANG's sentiment growth slowed in Q3 2020 compared to Q2 2020 as anti-competitive lawsuits continue to be a thorn in the side for big tech companies, says GlobalData, a leading data and analytics company. GlobalData's Filing Analytics tool identified that mentions of anti-trust and related keywords grew by over 100% in Q1-Q3 2020 for all company filings compared to the same period last year.
Despite excellent financial metrics growth in Q3 2020, Facebook's sentiments declined by slightly over 3%, driven by a slowdown in monthly active users in the US and Canada compared to Q2 2020. Globally, the monthly active user growth also seems to be flattening. Discussions around anti-trust in Facebook's filings also rose by over 100% in Q3 2020.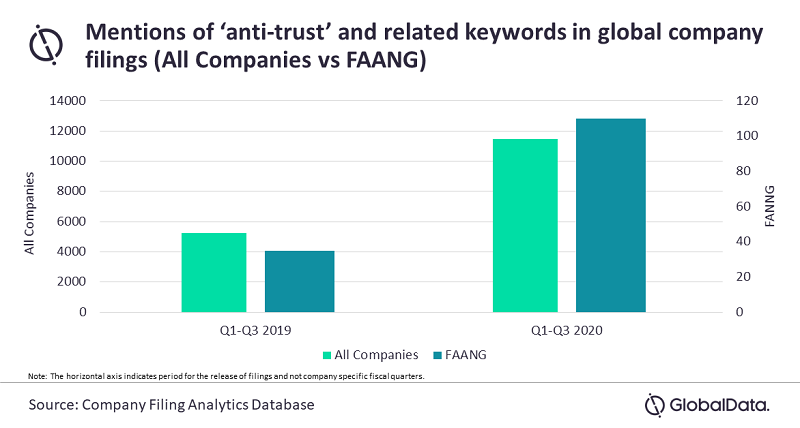 While the COVID-19 crisis impacted Google's ad business in Q2 2020, the search giant's sentiments grew by around 4% in Q3 2020, as advertising revenue growth showed improvements. Yet, the company's year-on-year (YoY) revenue growth in Q3 2020 has slowed to around 14%, compared to the 20% growth it showcased in Q3 2019.
Rinaldo Pereira, Senior Analyst at GlobalData, says: "Regulators in the US and Europe continue to shepherd legal complaints against Facebook and Google. In the past, both firms were fined US$5bn for anti-competitive behavior, which chipped away at sentiment growth. Facebook's social media monopoly is under intense scrutiny and the company, as well as Google, continues to come under fire on the digital ads front."
Apple's sentiments rose by just over 7% as the company was hindered by weak iPhone sales and its performance in China. In contrast, Mac and iPad sales were bright spots for the tech giant. Analogous to Google favoring its apps, Apple also faces anti-trust issues for App Store bias. Apple's investor sentiment was also impacted by the company not offering guidance for future quarters.
Amazon continued to be a beneficiary of the COVID-19 pandemic with a blowout Q3 2020. The e-commerce giant's sentiments also grew slightly over 6% on the back of skyrocketing profits and 37% YoY revenue growth in Q3 2020.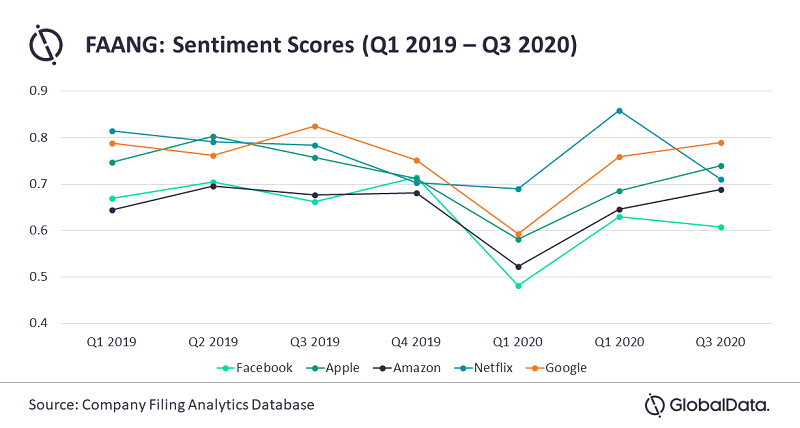 Pereira continues: "Anti-competitive lawsuits have not hindered sentiment growth for Amazon as compared to Facebook or Google, however, with the EU setting up newer investigations, Amazon's sentiments are likely to be impacted in future quarters."
Netflix, however, has steered clear of the US and EU anti-trust regulatory scanner. The streaming giant's subscriber growth waned in Q3 2020 with fewer stay-at-home orders across the globe. Adding to the plight, Netflix also missed its expectations for subscriber additions for Q3 2020 (2.2 million additions vs 2.5 million expectation).
Pereira adds: "Most of Netflix's Q3 2020 paid membership growth was from the Asia-Pacific region. Nevertheless, it remains to be seen if Netflix will add newer European subscribers in Q4 2020 as several countries consider implementing further lockdowns."