03 Jun 2020
Five bio/pharmaceutical companies that accepted PPP loans are developing COVID-19 therapies
Posted in
Pharma
Paycheck Protection Program (PPP) loans from the US Government were taken out by at least 49 publicly traded bio/pharmaceutical companies from the $659bn loan program, according to GlobalData, a leading data and analytics company. Of these, five are working on COVID-19 therapies.
The SBA loans were originally intended to aid small businesses to cover payroll, rent, and other designated costs. The lax enforcement of the rules surrounding the loan program has prompted widespread criticism in US media and by leaders of the Democratic party.
Peter Shapiro, PhD, PharmSource and Senior Director, Drugs and Business Fundamentals Databases at GlobalData, comments: "Five of the at least 49 public bio/pharmaceutical companies and contract manufacturing organizations (CMOs) that accepted PPP loans are developing COVID-19 therapies. Of special note is Mateon. The company intends to repurpose trabedersen/OT-01, a pipeline antisense oligonucleotide previously investigated for oncology and pneumonia, as a COVID-19 therapy. The company is also attempting to repurpose the marketed antimalarial artemisinin for COVID-19."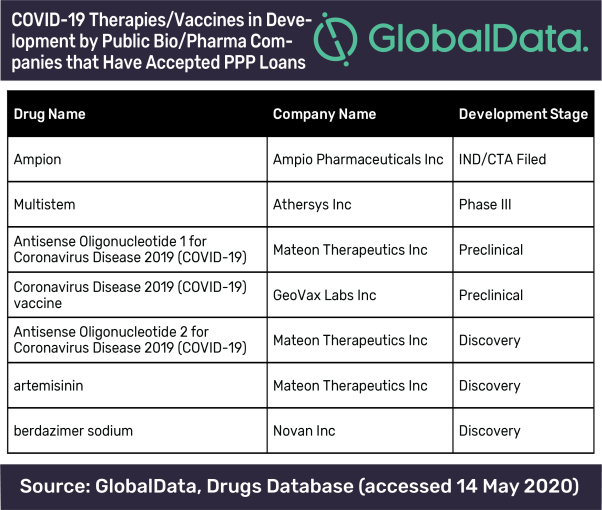 Shapiro continues: "The announcement of this COVID-19 project caused Mateon's market value to rise but it has since reverted to below the 52-week average. It is unclear why this company would need COVID-19 relief loans if it had an existing strategy around COVID-19. Mateon did not respond to a request for comment."
The SBA has defined companies involved in 'pharmaceutical preparation manufacturing' as 'small businesses' if they have fewer than 1,250 employees, or their maximum 'tangible net worth' is below $15m or average net income after tax is less than $5m.
Shapiro continues, "Despite the belief in widespread abuse of PPP loans, the SBA announced on May 13 that PPP loans of less than $2m will not be audited for eligibility. These loans come with significant restrictions for publicly traded companies including bans on paying dividends or repurchasing stock while the loan is outstanding; it is unclear how the SBA will enforce these rules.
"Backlash to PPP loans has been especially strong towards tech industry start-ups due to the perception that these companies still have easy access to capital after an unprecedented 11-year bull market. However, the same outrage that has been attached to tech start-ups that took PPP funding has not yet hit pipeline bio/pharma companies."
The past may provide insight into the public's reaction. During the subprime mortgage crisis, the publication of the companies that received Troubled Asset Relief Program (TARP) funds triggered 2011's Occupy Wall Street protests.