09 Jun 2020
Five CMOs raise eligibility questions after taking out PPP loans despite remaining open
Posted in
Pharma
The news that at least five publicly traded contract manufacturing organizations (CMOs) took out Paycheck Protection Program (PPP) loans from the US Government's $659bn loan program, despite remaining open for business and despite official guidance that the money was not intended for large public companies, raises questions about the eligibility of the participating companies for these emergency loans, says GlobalData, a leading data and analytics company.
Fiona Barry, Associate Editor at GlobalData comments: "These loans were designed to aid small businesses hit by the pandemic to help cover their expenses such as payroll and rent. However, at least five public CMOs or excess capacity manufacturers – Avid Bioservices, Bioanalytical Systems, International Isotopes, Aquestive Therapeutics, and ADMA Biologics – accepted PPP loans in spite of the fact that pharmaceutical manufacturing facilities remained open throughout the pandemic – as this industry was deemed essential by federal and state governments.
"Furthermore, the government guidance states that a publicly traded company with a substantial market cap is 'unlikely' to be eligible for a PPP loan.
"These companies have access to capital markets to raise funding and do not need this special loan system intended to stabilize small private companies."
Businesses that maintain their current level of staffing and wages will have their PPP loans partially or fully forgiven. The loans have come under widespread criticism in the US media and by the Democratic Party due to the lax enforcement of the rules for the loans.
ADMA Biologics Inc. is a pipeline biopharmaceutical company and excess capacity CMO. It is working on a plasma-derived immune globulin therapy for COVID-19 as part of the consortium CoVIg-19 Plasma Alliance.
Barry continues: "ADMA Biologics took a $5.4m PPP loan. It is unclear why a company such as ADMA Biologics would need a COVID-19 relief loan if it had an existing strategy around COVID-19. No other members of the CoVIg-19 Plasma Alliance consortium have applied for PPP loans."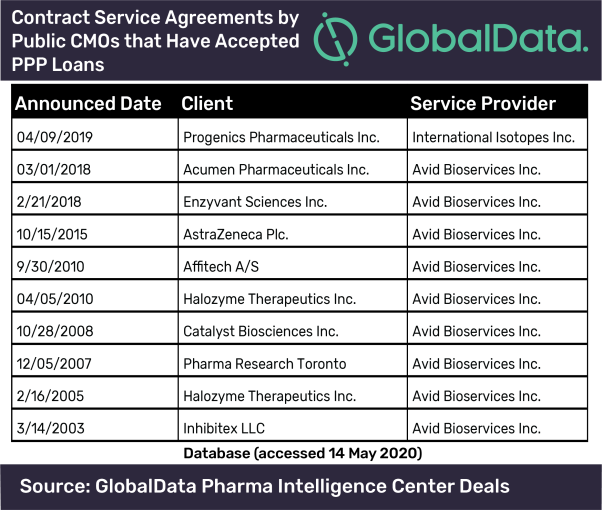 Barry concludes: "Notably, Avid Bioservices has multiple contract manufacturing projects. The majority of these contract service agreements relate to the contract manufacture of pipeline-stage biologics and specific monoclonal antibodies."
The CMOs were observed by GlobalData to have taken larger PPP loans than the bio/pharmaceutical companies that took loans.
Barry added: "The CMOs took larger PPP loans than the bio/pharma companies because they have larger labor and infrastructure costs—these are the overheads that are covered by PPP, as opposed to bio/pharma companies' R&D costs, which are not covered."