25 Sep 2019
Fuel-saving tech and e-axles will keep profitable SUVs on sale as emissions rules tighten
Posted in
Press Release
Consumers across the world are flocking towards sport utility vehicles (SUVs) and away from traditional sedans, wagons and hatchbacks, says GlobalData, a leading data and analytics company.
GlobalData's latest report, 'The Rise of the SUV', found that the market share of SUVs in the US jumped from less than 45% in 2012 to nearly 65% in 2018. Meanwhile, in China, road car sales increased by around 50% from 2010 to 2018 but SUV sales soared by an unprecedented 600% over the same period.
Mike Vousden, Automotive Analyst at GlobalData, commented: "SUVs are synonymous with four-wheel-drive systems thanks to their origins in off-road vehicles. The overall global fitment rate of these systems, standing at more than 16 million units in 2018, can be used as a proxy for SUV development."
Four-wheel-drive system fitments will increase at a compound annual growth rate (CAGR) of 3.2% between 2024 and 2034. This is noticeably higher than the total industry volume CAGR of 1.3% over the same period. As a result, GlobalData expects that SUVs will continue to increase their market share compared with road cars for the foreseeable future."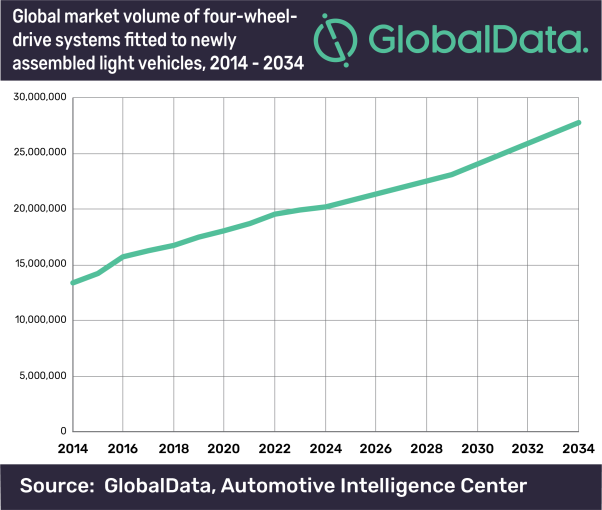 The momentum behind global SUV sales is good news for manufacturers because they are generally more profitable than the road cars on which they are based. However, the segment's gains are threatened by governments introducing ever stricter vehicle emissions targets which SUVs, with their weighty bodies and brick-like proportions, find harder to meet than an equivalent road car.
Vousden adds: "Considering the long-term viability of SUVs is threatened by tightening targets, one might expect forecasts to predict a contraction in the segment. However, thanks to a range of emissions-busting technologies, the gap between SUVs and road cars has narrowed considerably. This means SUVs will continue to comply with emissions regulations so manufacturers can continue to sell these in-demand, high-profit models."
In addition to industry-wide developments such as downsized turbocharged engines and lightweighting materials, two technologies are of particular relevance to SUVs. The first is disconnecting all-wheel-drive systems that cut power to the second axle when not needed to save fuel, only re-engaging it when extra traction is required.
The second is electrified axles or 'e-axles'. This setup sees a vehicle's primary axle powered by a conventional engine and transmission, while the second axle is fitted with an electric motor. This removes the energy loss suffered by a typical all-wheel drive (AWD) vehicle while still providing the AWD grip customers expect along with hybrid operation for reduced fuel consumption and emissions. In addition, e-axles are relatively easy to incorporate into existing production lines and vehicle platforms with only a modest on-cost to the manufacturer.
Vousden concludes: "A range of efficiency-boosting technologies means there's no longer a significant fuel-economy penalty in choosing an SUV over a conventional road car. Buyers in developed nations are gravitating towards SUVs for their practical yet stylish image, while those in developing countries often rely on SUVs to navigate underdeveloped road networks."
Information based on GlobalData's report: 'The Rise of the SUV'