21 Oct 2020
Future uptake of Opdivo and Yervoy combination in oncology is at risk, says GlobalData
Posted in
Pharma
Bristol-Myers Squibb's (BMS) blockbuster combination of Opdivo and Yervoy is facing increasing scrutiny in various oncology indications as to whether the financial burden and clinical toxicity added by Yervoy is worth it. According to leading data and analytics company GlobalData, clinical trials with Opdivo monotherapy outnumber the trials with Opdivo and Yervoy combination.
GlobalData has identified that, out of 782 ongoing clinical trials in oncology that have listed Opdivo, Yervoy, or the combination as a primary intervention, Opdivo monotherapy represents the majority. Specifically, 61% of trials include Opdivo monotherapy, 31% of trials the combination, and only 8% include Yervoy monotherapy. Interestingly, only 20% of these trials are industry-sponsored.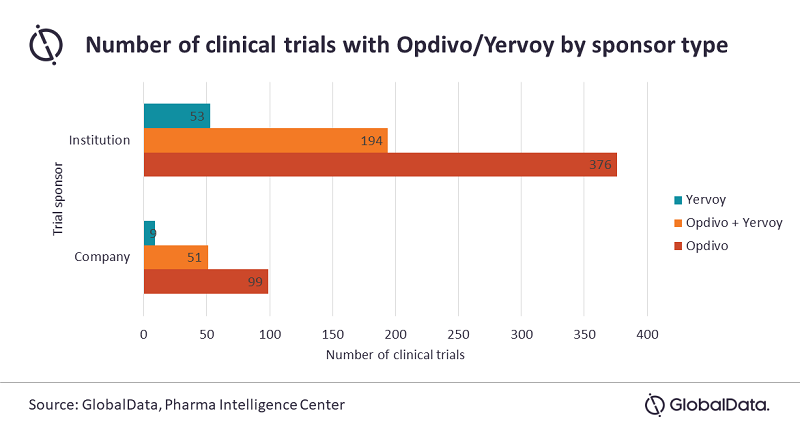 Sakis Paliouras, PhD, Oncology Analyst at GlobalData, comments: "Several checkpoint inhibitors have received Food and Drug Administration (FDA) approval for various indications, including Merck's Keytruda, Roche's Tecentriq, AstraZeneca's Imfinzi and Pfizer's Bavencio. This intense competition dictates that any combination partner will have to demonstrate a significant benefit to be preferred over monotherapy."
The combination recently won another FDA label for pleural mesothelioma. Cancers of high unmet need such as mesothelioma have made it easier for BMS to obtain approval with comparing Opdivo and Yervoy to chemotherapy, rather than Opdivo monotherapy. This is not the case in other indications, where the continuous robust data of other checkpoint inhibitors used in monotherapy place the burden of proof on BMS to justify the premium price and extra toxicities of the combination. The high-risk adjuvant melanoma setting data from the CheckMate 915 study, showed that the combination failed to improve recurrence-free survival over Opdivo alone.
Paliouras adds: "It is questionable whether prescribing physicians will retain their trust in the combination in such a competitive environment. The majority of Yervoy sales come from combination with Opdivo since its use as monotherapy is not as common. In 2019, Opdivo brought in approximately $8bn and Yervoy $1.5bn in sales. While the analyst consensus forecast for Opdivo projects that over the years of 2019–2026 it will enjoy an extra $5bn in sales, the same figure for Yervoy is only $500m."