28 Mar 2019
Global Bone Grafts and Substitutes market expected to reach $3.2bn by 2028, says GlobalData
Posted in
Press Release
The global Bone Grafts and Substitutes market is expected to reach $3.2bn by 2028, growing at a Compound Annual Growth Rate (CAGR) of 4.2%, according to GlobalData, a leading data and analytics company.
The company's report, 'Bone Grafts and Substitutes, Global Outlook, 2015-2028 reveals that Asia Pacific will be one of the fastest growing regions at a CAGR of 5.4% between 2018 and 2028, with North America and Europe following closely behind at 2.7% and 2.9% respectively.
Synthetic Bone Graft Substitutes comprise the largest segment of the market, followed by allograft bone chips and bone morphogenetic proteins (BMP). Synthetic materials have been more easily acquired in the past, but organic products have been experiencing growth as they are approved in more countries.
Sarah Janer, Medical Devices Analyst at GlobalData comments, "The increasing prevalence of osteoarthritis is driving the demand for procedures that include bone grafts and substitutes, such as spinal fusion, trauma fixation, and joint reconstruction surgeries." 
Barriers to market growth include a lack of clinical data on novel bone substitutes, and ongoing debates regarding many products cancer-related complications.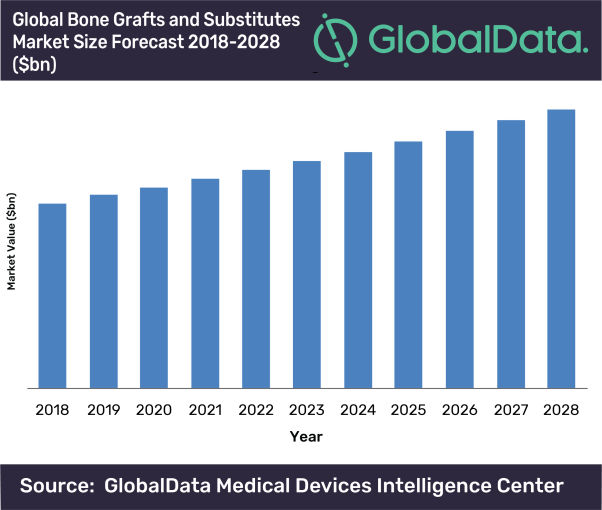 IMAGE FOR PUBLICATION: Please click here for enlarged chart
Janer concludes, "Although autograft bone grafts are considered the gold standard, lack of availability is driving demand for alternatives such as synthetic bone grafts and demineralized bone matrix products."