28 May 2020
Global deal activity showcased decline during week ended May 24
Posted in
Business Fundamentals
A total of 1,030 deals were announced globally during the week ended May 24, 2020, which is a decrease of 12.9% over 1,183 deals announced during the previous week, according to GlobalData's deals database.
Aurojyoti Bose, Lead Analyst at GlobalData, comments: "Global deal activity has remained inconsistent due to volatile market conditions since the COVID-19 outbreak and this decline came after growth in deal volume witnessed during previous week. The number of deals announced during the week was also lower than the Q1 2020 and April 2020 weekly average levels."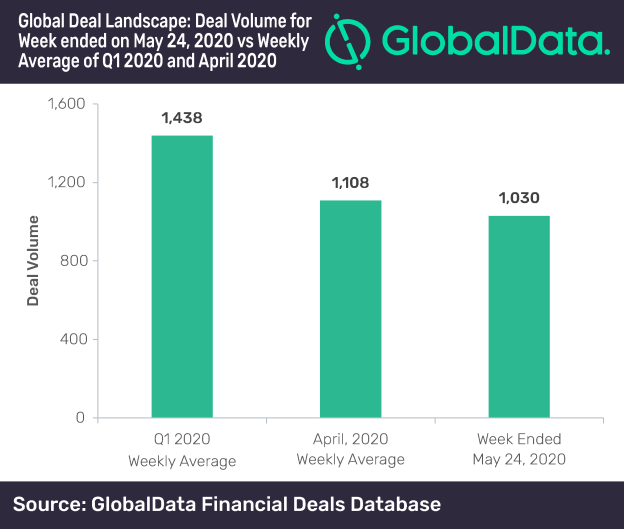 Deal activity has also remained inconsistent across geographies since the COVID-19 outbreak. Deal volume declined in markets such as the US (by 17.5%), Australia (24.6%), South Korea (57.1%), Germany (57.5%) and France (15.8%) during the week ended May 24, 2020 compared to the previous week. Meanwhile, China, the UK and Canada witnessed growth in the number of announced deals by 11.4%, 21.1% and 2.1%, respectively.
Deal activity in sectors such as retail and travel & tourism declined during the week while the healthcare sector witnessed marginal improvement.
Deal types such as mergers and acquisitions (M&A), private equity and licensing agreements witnessed decline in deal volume by 17.4%, 42.2% and 40.9%, respectively during the week while the number of venture financing, partnership and equity offering deals increased by 0.7%, 10.4% and 7%, respectively.