11 Nov 2020
Global M&A activity started showcasing improvement as Q3 approached the end
Posted in
Business Fundamentals
The COVID-19 outbreak has affected global mergers and acquisition (M&A) deal activity during the third quarter (Q3) of 2020. However, the M&A deal landscape showcased improvement in September, according to GlobalData, a leading data and analytics company.
The number of announced M&A deals decreased from 2,593 in July 2020 to 2,356 in August before increasing to 2,419 in September. Similarly, after decreasing from $305.1bn in July to $223.7bn in August, the M&A deal value rebounded to $325.2bn in September.
Aurojyoti Bose, Lead Analyst at GlobalData, comments: "The rebound in deal value in September was driven by the APAC and Europe regions, which witnessed the announcement of big-ticket deals during the month such as the acquisition of the remaining 33.79% stake in NTT Docomo by Nippon Telegraph & Telephone (NTT) for US$40.7bn, which raised the total value for the APAC region. Meanwhile, the announcement of the acquisition of ARM by NVIDIA for $40bn was pivotal in raising the total deal value for Europe during September."
The number of M&A deals worth more than or equal to $100m increased to 206 deals in September 2020 against 178 deals in August 2020. In the North America, APAC, Europe and Middle East and Africa regions, the number of deals worth more than, or equal to $100m increased from 71, 59, 32 and two in August to 81, 72, 38 and five in September, respectively.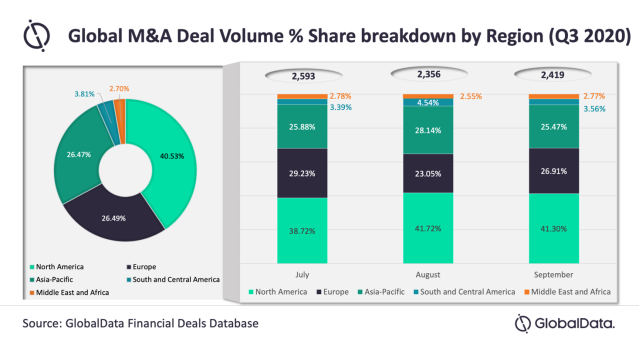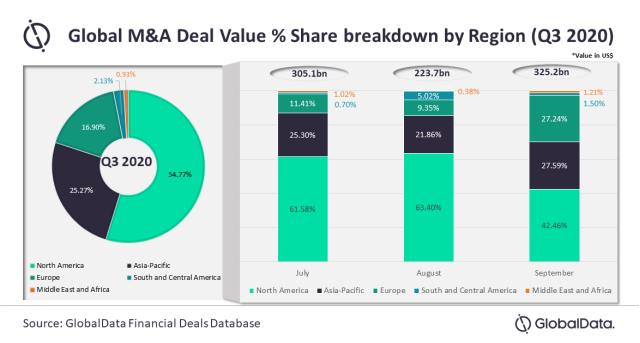 Out of all regions, North America topped accounting for 54.8% and 40.5% of global deal value and volume in Q3 2020, respectively. The M&A deals volume in the North America region increased from 983 in August 2020 to 999 in September 2020, whereas the corresponding deal value decreased from $141.8bn in August to $138.1bn in September.
The Europe, APAC, South and Central America, and Middle East and Africa regions accounted for 26.5%, 26.5%, 3.8% and 2.7% of global deal volume, respectively. In terms of deal value, APAC, Europe, South and Central America, and Middle East and Africa regions accounted for 25.3%, 16.9%, 2.1% and 0.9% share, respectively.