07 May 2019
GlobalData identifies semiconductor companies leading in autonomous vehicles
Posted in
Press Release
Intel, Google and Nvidia are among the leading chip companies in the autonomous vehicles theme and are well positioned to disrupt the automotive industry, according to GlobalData's Thematic scorecard for the semiconductor sector.
GlobalData Head of Thematic Research Cyrus Mewawalla comments, "Viewing the world's data by 'themes' makes it easier to make important decisions.
"The global automotive industry – worth $3.5 trillion in annual revenues – faces four concurrent disruptive threats: the connected car, the electric vehicle, autonomous driving technology and the concept of transport-as-a-service.
"Each threat is potentially existential to legacy carmakers who operate in a low growth, low margin sector that rattles with over capacity, and which is seeing its supply lines reset by cumulative advances in enabling technologies typically deployed by Tier-1 automobile sub-system suppliers."
According to GlobalData's latest Semiconductor Sector Scorecard, autonomous vehicles is one of the top 10 themes that will impact the semiconductor sector over the next two years.
Other semiconductor companies given the highest thematic score for autonomous vehicles are STMicroelectronics, Texas Instruments, Baidu, Analog Devices, Rohm, Aixtron, Renesas, NXP, Infineon, Tesla, Melexis, On Semiconductor, Skyworks, and Silicon Labs.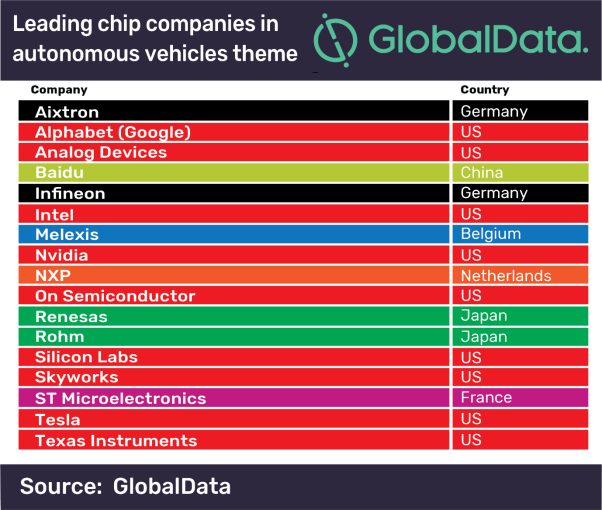 IMAGE FOR PUBLICATION: Please click here for chart
Autonomous vehicles is one of over 50 critical themes driving growth in tech, media and telecoms (TMT). Other key themes are artificial intelligence (AI), cybersecurity, e-commerce, cloud, Brexit, and 5G.