10 Jan 2020
Goldman Sachs dominates GlobalData's top 10 global M&A financial adviser league table in financial services sector for 2019
Posted in
Press Release
Goldman Sachs has topped the latest mergers and acquisitions (M&A) league table of the top 10 financial advisers in the financial services sector based on deal value in 2019, according to GlobalData, a leading data analytics company.
The US-based multinational investment bank secured the top spot based on the total advised deal value of US$188.8bn with 48 deals.
According to GlobalData, which tracks all M&A, private equity/venture capital and asset transaction activity around the world to compile league tables, Morgan Stanley and JP Morgan came in second and third positions, advising on deals worth US$143.8bn and US$112.3bn, respectively.
Ravi Tokala, Financial Deals Analyst at GlobalData, says: "The financial services sector recorded six megadeals (>US$10bn) and ~70 deals with more than US$1bn value, which resulted in over 10% jump in the year-on-year overall deal value in 2019 and five financial advisers and one legal adviser were able to cross the US$100bn mark. Goldman Sachs emerged as the top financial adviser in the sector, mainly driven by its involvement in five out of six megadeals recorded."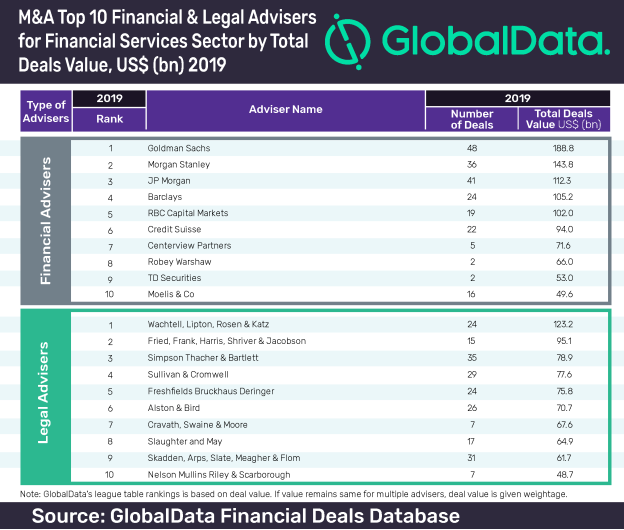 IMAGE FOR PUBLICATION: Please click here for enlarged chart
Global financial services deals market in 2019
The financial services sector saw an increase of 10.21% in deal value from US$389.8bn in 2018 to US$429.7bn in 2019. Deal volume grew by 24.27% from 3,676 to 4,568.
Goldman Sachs, which topped the financial services table of M&A financial advisers, was ranked first in the recently released global league table of top 20 M&A financial advisers by GlobalData.
Wachtell, Lipton, Rosen & Katz leads top 10 M&A legal advisers list
US-based Wachtell, Lipton, Rosen & Katz led the top 10 legal advisers table for 2019 with a value of US$123.2bn through 24 deals. Fried, Frank, Harris, Shriver & Jacobson stood at second position with US$95.1bn through 15 deals. Wachtell, Lipton, Rosen & Katz also led the global league table of top 20 M&A legal advisers.