27 Apr 2020
Goldman Sachs is top financial adviser in consumer sector for coronavirus-hit Q1 2020
Posted in
Business Fundamentals
In Q1 2020, the consumer sector witnessed a decline of 26.96% in deal value from US$55.9bn in Q1 2019 to US$40.9bn in Q1 2020. Deal volume also decreased by 15.67% from 1,257 to 1,060, says GlobalData, a leading data and analytics company.
Goldman Sachs leads by value
Goldman Sachs has dominated the latest mergers and acquisitions (M&A) financial advisers league table based on deal value in Q1 2020. The American firm secured the top spot by advising on seven deals worth US$11.3bn.
GlobalData, which tracks all M&A, private equity/venture capital and asset transaction activity around the world, confirmed that Morgan Stanley occupied second position with four transactions worth US$10.6bn.
Aurojyoti Bose, Financial Deals Analyst at GlobalData, comments: "Goldman Sachs, Morgan Stanley and Citi were the three advisers that managed to surpass the US$10bn mark during Q1 2020. Interestingly, all three firms advised on fewer deals compared to their peers but were involved in some of the big-ticket deals. The sector witnessed seven billion-dollar deals (>=US$1bn) and these three firms (independently or together) advised on three such deals."
Goldman Sachs, which topped the league table of M&A financial advisers in the consumer sector, also claimed top position in GlobalData's recently released global league table of top 20 M&A financial advisers.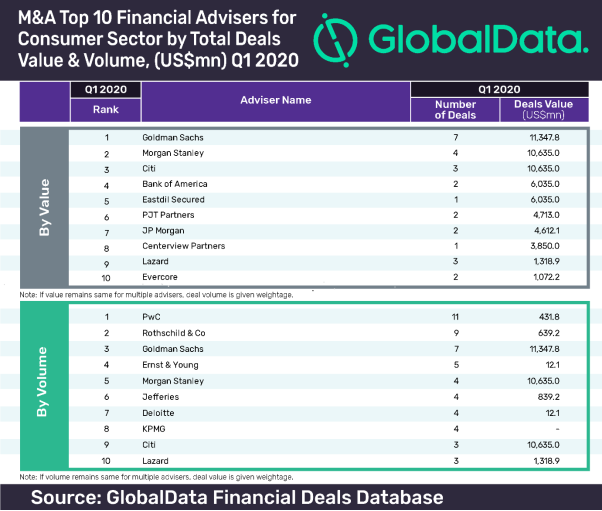 PwC tops by volume
PwC has secured number one position in the latest global M&A financial advisers league table based on deal volume in Q1 2020. The firm advised on 11 deals worth US$431.8m.
Rothschild & Co settled in second position (in volume terms) with nine transactions worth US$639.2m.
Bose comments: "Advising on big-ticket deals is vital as PwC, despite occupying the top spot in volume terms, did not feature among the top ten advisors by value. Rothschild & Co also failed to secure a ranking."