14 May 2020
Goldman Sachs is top M&A financial adviser in the US in Q1 2020
Posted in
Business Fundamentals
Goldman Sachs was the top mergers and acquisitions (M&A) financial adviser in the US by value and volume in Q1 2020, according to GlobalData, a leading data analytics company. The US investment bank took the top spot with total deal value of US$68.2bn for advising on 39 deals.
GlobalData, which tracks all M&A, private equity/venture capital and asset transaction activity around the world to compile league tables, confirmed that JP Morgan finished at second position (in terms of value) with 26 deals worth US$66.8bn and Morgan Stanley at third position with 29 deals worth US$58.8bn.
Aurojyoti Bose, Financial Deals Analyst at GlobalData, comments: "Involvement in some of the big-ticket deals helped Goldman Sachs top the list. The firm advised on 18 deals worth greater than or equal to US$1bn."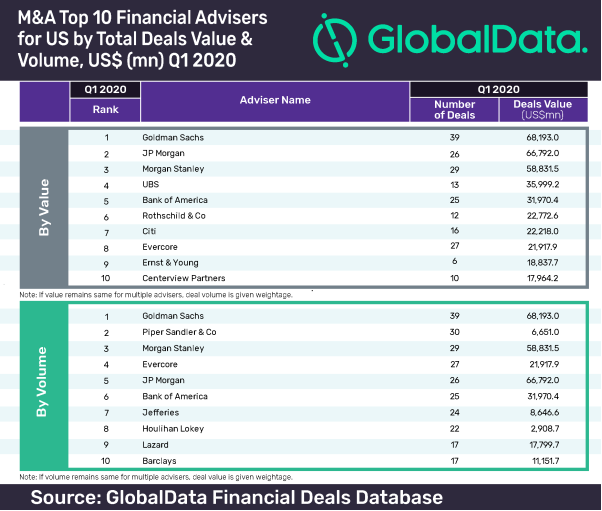 In terms of deal volume, Piper Sandler & Co occupied the second position with 30 transactions worth US$6.7bn.
Goldman Sachs also stood at the first position in GlobalData's recently released global league table of top 20 M&A financial advisers.