24 Jan 2020
Goldman Sachs leads GlobalData's top 10 global M&A financial advisers league table in North America
Posted in
Press Release
Goldman Sachs has dominated the latest mergers and acquisitions (M&A) league table of the top 10 financial advisers in North America based on deal value in 2019, according to GlobalData, a leading data and analytics company.
The American investment bank advised on 204 deals worth US$748.4bn.
According to GlobalData, which tracks all M&A, private equity/venture capital and asset transaction activity around the world to compile the league tables, Morgan Stanley ranked second with 133 deals worth US$593.0bn.
Ravi Tokala, Financial Deals Analyst at GlobalData, comments: "Despite a spike in North American targeted megadeals (>US$10b), the region saw a 7% decrease in total deals value in 2019 over 2018. Almost all top 10 legal and financial advisors participated in these megadeals, which were instrumental in deciding legal and financial advisor league table rankings in North America."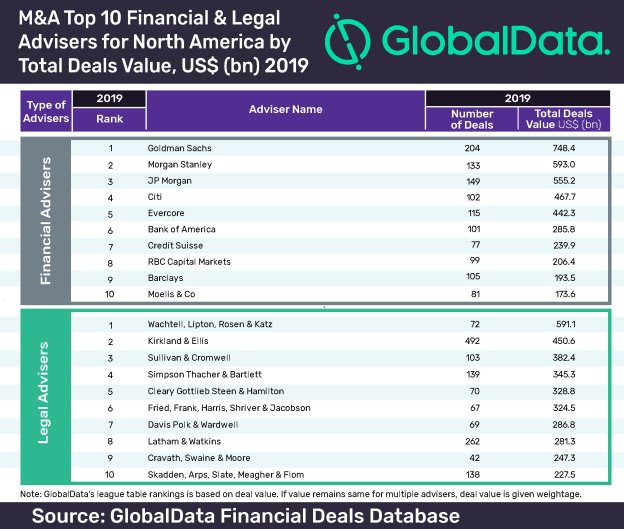 IMAGE FOR PUBLICATION: Please click here for enlarged chart
North America deals market in 2019
The deal volume in North America saw an increase of 17.97% from 22,313 in 2018 to 26,323 in 2019. Deal value declined by 7.03% from US$1812.9bn in 2018 to US$1685.5bn in 2019.
Goldman Sachs, which topped the league table of M&A financial advisers in North America, also claimed top position in GlobalData's recently released global league table of top 20 M&A financial advisers.
Wachtell, Lipton, Rosen & Katz leads top 10 M&A legal advisers list
Law firm Wachtell, Lipton, Rosen & Katz emerged as the lead player in the list of top 10 legal advisers, in terms of deal value. It advised on 72 deals worth a combined US$591.1bn. Kirkland & Ellis occupied second position in terms of value, advising on 492 deals worth US$450.6bn. In the global league table of top 20 M&A legal advisers, Wachtell, Lipton, Rosen & Katz secured number one position.