17 May 2019
Google among eight companies identified as the semiconductor technology leaders of tomorrow in the data centre space, says GlobalData
Posted in
Technology
Google, Amazon, Xilinx and Micron are among the world's leading semiconductor companies best placed to succeed in the data centre space in the next two to five years, according to GlobalData, a leading data and analytics company.
According to GlobalData, data centres is one of the top ten themes that will impact the semiconductor sector, alongside high performance computing, AI, ambient commerce, autonomous vehicles, Industrial Internet, gaming, 5G, M&A and geopolitics.
Cyrus Mewawalla, GlobalData Head of Thematic Research says, "Data centre developments are important for the semiconductor sector due to the global growth in demand for computing power. The need to analyse and process dramatically increasing volumes of data – much of it unstructured – is in turn driving demand for computer memory."
GlobalData's latest 'Semiconductor Scorecard', analyses the major technology, macro-economic, and regulatory themes impacting semiconductor companies and reveals that Samsung, SK Hynix, TSMC, and Barefoot Networks also make the top eight companies in the data centres theme.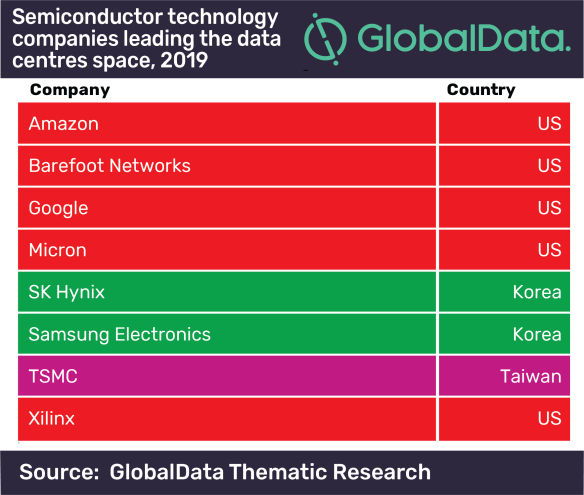 Image for publication: please click here for enlarged chart
Mewawalla continued, ''Companies who invest in the right themes become success stories, with those who miss the big themes ending up either falling behind their competitors or failing altogether.
''Automobile manufacturers, for example, can no longer carry on with business as usual. They face threats from four disruptive themes concurrently: the connected car, autonomous driving technology, electric vehicle technology and transport-as-a-service. However Tesla's market value has grown by 2,700% to $56bn over the last 10 years because they took ownership of the electric and autonomous vehicles theme."
GlobalData's latest Thematic Research reveals that in 2019 ever-larger volumes of digital data will fuel demand for storage, compute, and other data center resources. The use of cloud based resources in the form of servers, storage and networking services is now mainstream. Cloud-based infrastructure spend is currently growing at ten times the speed of traditional 'on-premise' infrastructure spend and we are now entering a world in which the ability to process large quantities of data, draw inferences from it, and act quickly in response to the insight it gives will determine the survival of many organizations.
Mewawalla added, ''The compounding demands of the Internet of Things, cloud computing, internet TV, gaming and artificial intelligence on digital lives are leading to a supply gap in the data centre market which the Internet giants, deploying their expertise in semiconductors, are rushing to fill: Amazon, Microsoft, Facebook, Alibaba and Google – as well as telecom operators and large corporations – are building data centers across the world at a fast pace. These data centres take in, store, process and disseminate the explosive – indeed, exponential – growth in Internet data that form the raw material and brains of their operations.''