05 Jun 2019
Google has been named among five companies identified as the servers, storage and networking equipment leaders of tomorrow in the Cloud IaaS/PaaS space, says GlobalData
Posted in
Technology
Google is one of the world's leading servers, storage and networking equipment companies best placed to succeed in the Cloud Infrastructure as a Service (IaaS)/Platform as a Service (PaaS) arena in the next two to five years, according to GlobalData, a leading data and analytics company.
According to GlobalData, Cloud IaaS/PaaS is one of the top ten themes that will impact the servers, storage and networking sector, alongside software defined networking, artificial intelligence, data centres, high-performance computing, the Internet of Things, 5G, cyber security, M&A and geopolitics.
The sector includes vendors of servers, storage devices, networking equipment and telecom equipment as well as providers of network management products.
Cyrus Mewawalla, GlobalData Head of Thematic Research says, "The use of cloud-based resources in the form of servers, storage and networking services is now mainstream, with cloud-based infrastructure spend growing at ten times the speed of traditional "on-premise" infrastructure spend. The number of cloud services and solutions (SaaS, PaaS, IaaS) will continue to rise throughout 2019, driven by investment in PaaS, which, with forecast growth of 36%, according to GlobalData, is the fastest growing cloud segment."
GlobalData's latest 'Servers, Storage and Networking Scorecard' analyses the major technology, macro-economic, and regulatory themes impacting servers, storage and networking equipment companies and reveals that Amazon, Microsoft, Oracle and Fabrinet also make the select group of leading companies in the Cloud IaaS/PaaS theme.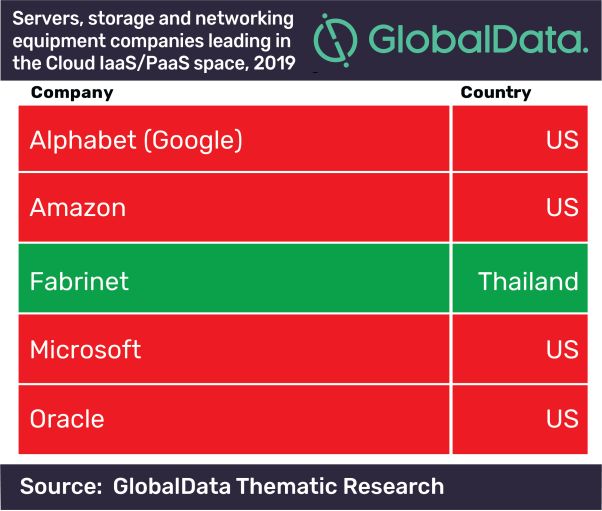 IMAGE FOR PUBLICATION: Please click here for enlarged chart
Mewawalla continued, "Companies who invest in the right themes become success stories with those who miss the big themes, ending up either falling behind their competitors or failing altogether.
"The past five years have seen cloud computing enter the mainstream, to the point that it is now the default option for many organisations, with locally installed infrastructure and software being the exception.
"The market for IaaS and PaaS is dominated by a handful of vendors, including Amazon, Microsoft, Alibaba, Google and IBM. Adoption of IaaS and PaaS is well into the early majority phase with growth in both segments set to exceed 30% over the next five years."
GlobalData's latest Thematic Research reveals that the capital cost of developing the hyperscale computing infrastructure necessary to compete with the incumbents is so high that new entrants face an enormous barrier.
There will be opportunities for some local providers to establish a niche presence, but this is more likely in the IaaS segment, where the focus is on the delivery of generic "bare metal" compute instances than in the PaaS layer, where value is added by offering an increasingly rich set of services on top of the bare metal.
The hyperscale data centres run by the likes of Amazon and Microsoft are increasingly deploying custom server hardware and networking kit from smaller suppliers rather than purchasing end-to-end solutions from big suppliers. The evolution towards "software defined everything" itself presents challenges for traditional hardware vendors, who need to manage a transition from a hardware-based proposition towards one that is largely vested in their software capabilities.