09 Jan 2020
Graft versus host disease diagnosed incident cases set to reach 22,500 in 2028
Posted in
Press Release
The burden of diagnosed graft versus host disease (GvHD) is expected to increase at an annual growth rate (AGR) of 2.18% from around 18,000 cases in 2018 to 22,500 cases in 2028 in the seven major markets (7MM*), according to GlobalData, a leading data and analytics company.
GlobalData's latest report, 'Graft Versus Host Disease: Epidemiology Forecast to 2028', reveals that the increase is partly attributed to the rising trend in transplantation in the 7MM, combined with underlying demographic changes in the respective markets.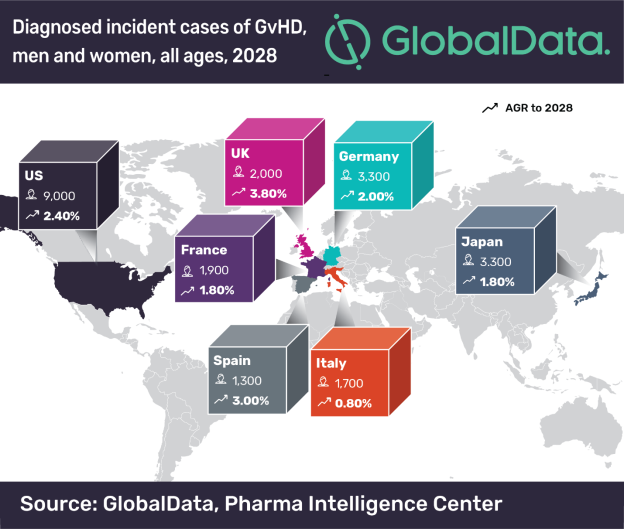 IMAGE FOR PUBLICATION: Please click here for enlarged chart
In the 7MM, both acute GvHD (aGvHD) and chronic GvHD (cGvHD) cases are expected to rise in the forecast period from 2018 to 2028.
Bishal Bhandari, Senior Epidemiologist at GlobalData, comments: "GlobalData's research shows that cases of aGvHD and cGvHD are growing steadily in the 7MM. The incidence of both aGvHD and cGvHD is directly dependent on the contribution of transplant practice-related factors, including donor-recipient parity, graft source, donor source, age, and GvHD prophylaxis. As the transplant cases will continue to rise, we expect aGvHD and cGvHD cases to rise as well in the near future."
In the 7MM, according to GlobalData, the majority of diagnosed incident cases of aGvHD were in grade II and fewer than 3% of cases were in grade IV in 2018. For severity of cGvHD cases, more than 80% of the cases were moderate or severe in 2018.
Bhandari concludes: "It is a promising development that the majority of aGvHD cases are now diagnosed at an earlier grade which would respond better to therapy to get the aGvHD under control.
"The majority of cGvHD cases were in moderate and severe grades suggesting that the threat of morbidity and mortality is high and targeted therapy is needed to control the more severe form of cGvHD cases."
*7MM: The US, France, Germany, Italy, Spain, the UK, and Japan