16 May 2019
Gut hormone receptors to retain commercial prominence in obesity pipeline, says GlobalData
Posted in
Press Release
The obesity pipeline is robust and contains a high level of diversity in both molecule types and molecular targets, despite the market's clinical and regulatory challenges. Presently, 41% of products in the obesity pipeline are first-in-class; an indicator of a highly innovative pipeline, according to GlobalData, a leading data and analytics company.
The company's latest report, 'Obesity: Gut Hormone Receptors Retain Commercial Prominence' reveals that despite the robust pipeline, the obesity market is still in need of medications that address unmet clinical needs, namely efficacious and safe therapies in the eight major markets (8MM*).
Gut hormones have attracted interest in obesity research, following the success of bariatric surgery demonstrating sustained weight loss, which is suggested to contribute to the declining secretion of appetite-associated gut hormones by a number of studies. This supports the rationale of targeting gut hormones in obesity.
Kajal Jaddoo, Associate Pharma Analyst at GlobalData, says: "There is strong interest from pharmaceutical companies to develop obesity treatments, as evidenced by the large number of companies active within the therapy area. Merck & Co, Ember therapeutics, Diasome Pharmaceuticals are just some of the companies with first-in-class products in active development."
GlobalData's report also finds that 267 products are in active development with majority in early stage development, with 102 first-in-class products potentially available for licensing and co-development deals.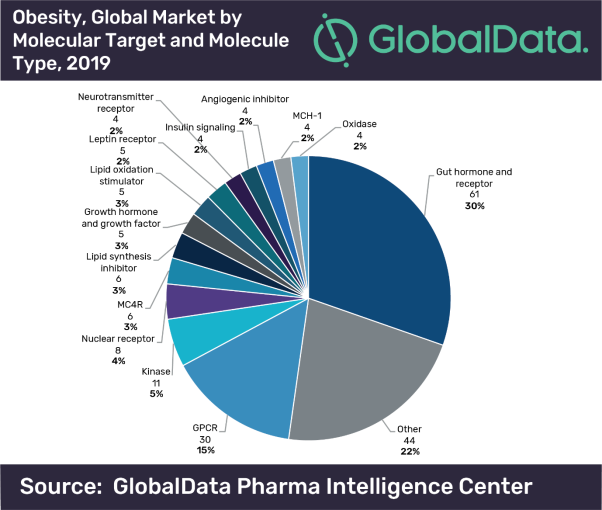 IMAGE FOR PUBLICATION: Please click here for chart
As shown in the figure above, Gut hormone and G-protein-coupled receptors are the most commonly targeted accounting for 46% of the overall pipeline. The remainder of the pipeline is made up of smaller target families, such as lipid synthesis inhibitors, angiogenic inhibitors, and leptin receptors, presenting significantly higher diversity than is seen in the current market.   
*8MM = US, Brazil, Germany, UK, France, Spain, Italy, Japan