15 Aug 2019
Healthcare professionals say the UK WILL NOT leave the EU on the current withdrawal agreement on 31 October in latest GlobalData survey
Posted in
Pharma
Healthcare industry professionals around the world believe that Brexit will not happen on the current withdrawal agreement on 31 October, but there will also be no cancellation of Brexit, the latest survey data from GlobalData, a leading data and analytics company, suggests.
GlobalData's latest report, 'Brexit and the Healthcare Industry – Implications for Pharma, Q2 2019', reveals that a total of 38% and 41% of UK and US respondents, respectively, believe that there will be further Brexit delays once the current deadline of 31 October is reached. However, 43% of EU respondents are leaning towards a No Deal Brexit.
Urte Jakimaviciute, Senior Director of Market Research at GlobalData, commented: "May's withdrawal agreement has already been rejected three times by the UK Parliament. With the EU and the UK making no further progress to address the Irish border issue, it is unlikely that the agreement will be sealed."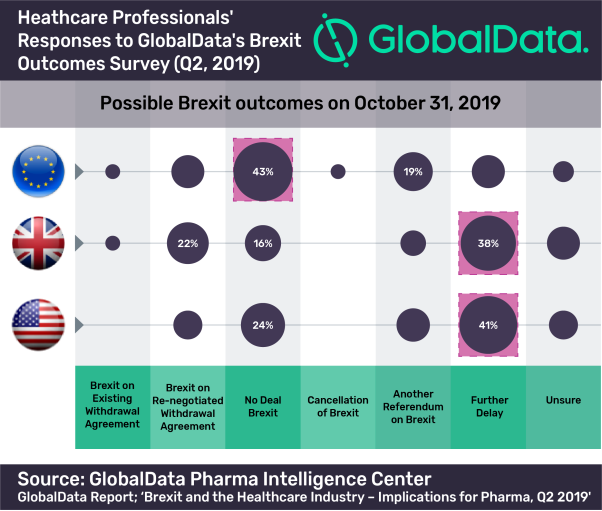 The UK pharmaceutical industry is one of the country's largest and most dynamic sectors and a major contributor to the economy. Pharmaceutical giants such as GlaxoSmithKline and AstraZeneca, as well as many other leading international pharmaceutical companies, have sizeable operations in the UK.
Jakimaviciute continues: "Since GlobalData started the Brexit tracker back in Q1 2018, healthcare industry professionals kept on highlighting that investing resources into managing the potential outcomes of Brexit was one of the top concerns affecting their corporate strategy. Further Brexit uncertainty translates into further expenses. For example, GSK announced that its contingency plan-related costs will reach £70m over the next two to three years, with ongoing additional costs of approximately £50m per year."
Despite several deadline extensions and unsuccessful attempts to deliver Brexit, the UK and the EU may be willing to collaborate to avoid a hard Brexit.
Jakimaviciute adds: "With less than three months left until the deadline, and businesses urging the UK Government to abandon a No Deal Brexit, another deadline extension may still be on the table. However, delaying Brexit would mean longer exposure to uncertainty, which will affect economy and business."