05 Feb 2019
Identifying the mechanism of action could be key to gaining regulatory approval for microbiome therapeutics, says GlobalData
Posted in
Press Release
Identifying the mechanism of action is anticipated to be a key challenge in developing and launching microbiome therapeutics, according to GlobalData, a leading data and analytics company.
The company's latest report 'The State of the Microbiome' – based on the results of a 10 minute survey of 158 GlobalData Pharma clients and prospects that was fielded from December 20, 2018 to January 7, 2019 – found that 52% of participants in the pharmaceutical industry indicated the identification of the mechanism of action is a major challenge associated with developing microbiome therapeutics and 27% indicated it as the most challenging aspect.
Alexandra Annis, MS, Managing Pharma Analyst at GlobalData, says: "Regulatory bodies may require drug developers to demonstrate the mechanisms of action of microbiome therapeutics in order to gain regulatory approval. In addition, microbiome therapeutics may experience slow uptake upon launch if drug developers cannot explain how they work to physicians."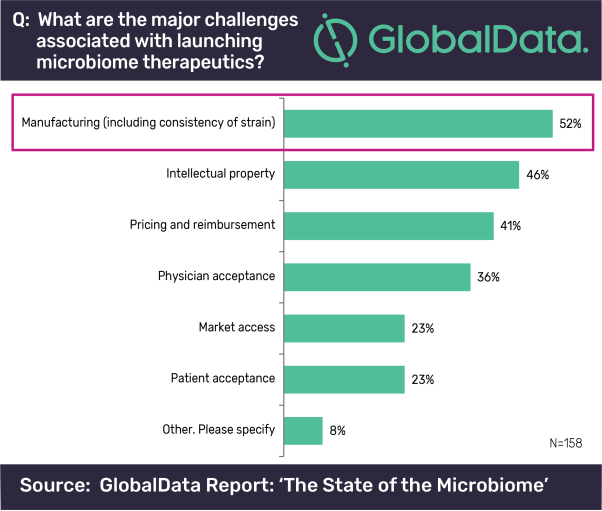 IMAGE FOR PUBLICATION: Please click here for enlarged chart
Microbiome therapeutics was defined to include both live biotherapeutic products and products targeting the microbiome, excluding over the counter probiotics. Participants answered questions about the challenges they anticipate to impact the development, launch and manufacturing of microbiome therapeutics. 
Annis continues: "Contrary to respondents' expectations, GlobalData anticipates that identifying and meeting regulatory requirements will be a major challenge for developing microbiome therapeutics.
"Regulatory agencies will likely require drug developers to demonstrate the mechanisms of action of microbiome therapeutics in order to gain for regulatory approval. The current regulatory requirements are not very clear, so developers will need to work very closely with regulators to ensure that there is a mutual understanding of what is required for approval."