23 Nov 2020
Impatient regulators will hold Big Tech responsible for misinformation
Posted in
Technology
Big Tech stands accused of distorting the information we consume in ways that are bad for us both individually and collectively. Online platforms have begun to self-regulate, but these attempts will not appease regulators and Big Tech will increasingly be held responsible for what they publish, says GlobalData, a leading data and analytics company.
GlobalData's latest report, 'Misinformation – Thematic Research', states that misinformation is not a new phenomenon, but the technology behind it is certainly unprecedented. Big data and artificial intelligence (AI) provide the foundation for digital ecosystems to pursue personalization at scale. With their sophisticated algorithms and huge data troves, social media platforms can tailor content to reach those most likely to be influenced. The ad-targeting business model prioritizes profit over quality of content and respect for the user's privacy.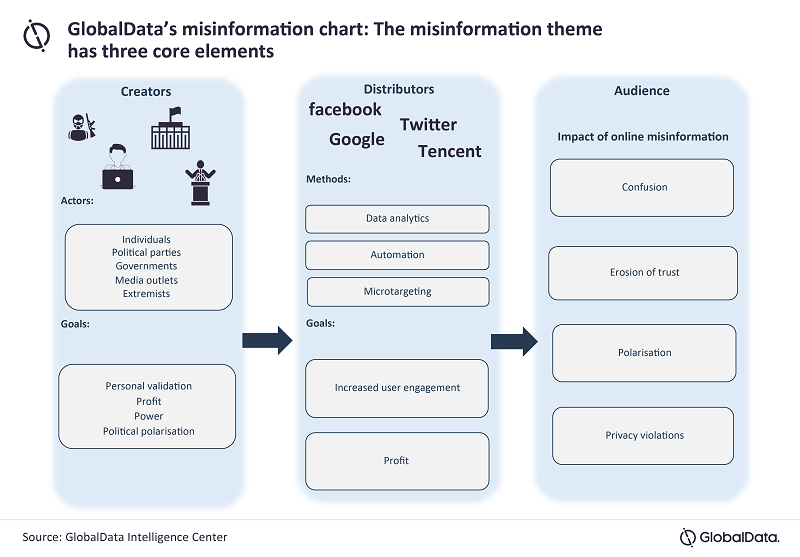 Laura Petrone, Senior Analyst at GlobalData, commented: "Online platforms such as social media channels, ecommerce sites, and search engines possess sophisticated algorithms and huge data lakes. They can tailor and personalize content to reach those most likely to be influenced. Content distributors such as Google, Facebook, Twitter and Amazon have forged pure ad business models to collect, sell and use personal data. The aim is to hold the user's attention for as long as possible, with no particular care for either the quality of the information provided or the user's privacy."
These so-called microtargeting practices use algorithms designed to improve the customer experience and, more importantly, generate profits. Their ultimate purpose is to keep users engaged with the platform, showing them more ads and collecting more data about them.
Petrone adds: "The targeting practices that underlie distributors' business models have played a major role in creating echo chambers by exploiting individual internet users' characteristics – real or assumed. Companies such as Google and Facebook are quick to promote ethical AI initiatives, but they also use algorithmic systems that lack transparency."