29 Apr 2019
India's Internet battle heats up with Reliance Industries set to disrupt ecommerce, says GlobalData
Posted in
Technology
Indian industrial conglomerate Reliance Industries is well positioned to disrupt the country's fast-growing ecommerce and mobile payment markets, according to GlobalData, a leading data and analytics company.
Building on a foundation of 300 million Reliance Jio mobile subscribers and the country's biggest retail chain, the company's ambition is to combine its retail and ecommerce operations into a digital empire. New regulation which places tough restrictions on foreign companies is on its side, and Reliance's ecommerce platform, set to be launched in the second half of 2019, will shake up the market without facing the same regulatory burden as rivals like Amazon.  
GlobalData's latest report, India Tech – Thematic Research, forecasts that India's ecommerce sector will grow at a compound annual growth rate (CAGR) of 20% between 2018 and 2030, with gross merchandise volume (GMV) hitting $284bn in 2030, up from $33bn in 2018. The main drivers for this growth are increased Internet and smartphone penetration, growing consumer purchasing power, and the influence of a younger, more tech-savvy generation.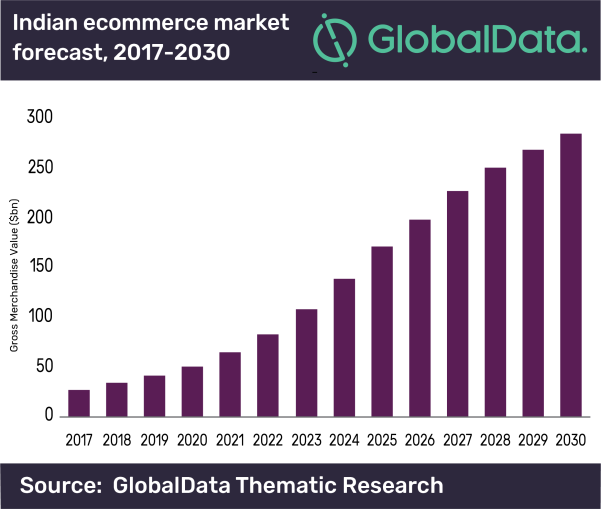 IMAGE FOR PUBLICATION: Please click here for chart
Laura Petrone, Senior Analyst for technology Thematic Research at GlobalData commented: "Fast-growing internet services like ecommerce, mobile payments, and video-streaming have become a contested battleground in India, with giant foreign firms pitched against smaller, home-grown companies.
"Although not openly protectionist, the Indian government is increasingly supervising competition in these markets and challenging tech giants with tougher regulation. Given the nationalistic tech agenda of successive Indian governments, the likely outcome is the birth of a national champion able to counterbalance the likes of Google, Facebook, and Amazon with Reliance Industries matching all the criteria for this role."